Will Mainers Take Their Power Into Their Own Hands?
Maine voters could set a model for other areas of the country to follow with a rare hostile takeover of the electric powers that be.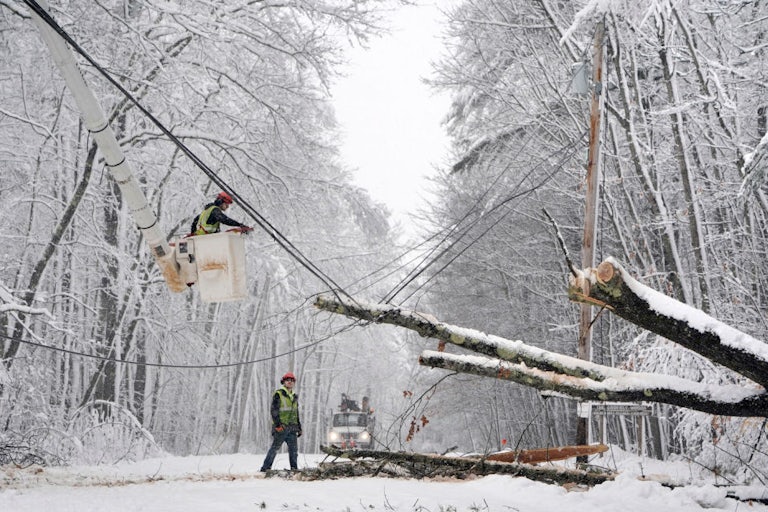 Portland Press Herald/Getty Images
Workers removing a tree from power lines in South Berwick, Maine, in March 2018
While we may grumble about our electric bill, most of us take the idea of paying the costs of electricity to a specific power company each month as a given. But what if you could fire the utilities that are responsible for keeping your lights on if they do a bad job—or if they aren't prioritizing climate change?
In November, Mainers will vote on a ballot initiative that could substantially change who controls their power—literally. If a majority of Mainers vote "yes" on Question 3, they would be able to replace Central Maine Power, or CMP, and Versant, two companies that supply more than 96 percent of Maine's electric customers, with a new publicly owned power company. It would be a rare hostile takeover of the electric powers that be, which could set a model for other areas of the country to follow.
The campaign to replace CMP and Versant is being run by a grassroots group called Our Power. For years, Mainers have complained about outage and customer service issues from both of their big utilities. The new company, which would be named Pine Tree Power, would "bring back local control, save money, and reduce outages," all while speeding the transition to cleaner energy.
Versant and CMP are what's known as investor-owned utilities: for-profit companies that are given monopolies by the state to provide power to certain areas. More than 70 percent of the country gets its power from investor-owned utilities. But this model, said Joshua Macey, an assistant professor at the University of Chicago Law School who focuses on energy policy, is a relatively recent invention from the late 1800s that took off as the use of electricity was becoming more widespread and the companies profiting off it wanted to maintain control.
According to the rules of their state-given franchises, investor-owned utilities can't earn money on the energy they provide to consumers. They're only allowed to make a profit on building new infrastructure—which creates an incentive for utilities to go buck wild in building lots of new pipelines or a truckload of new peaker plants. By comparison, a switch to lower-emissions forms of power or incorporating efficiency upgrades to existing infrastructure only benefits the consumers served by the utilities, not the shareholders; the financial impetus to do those things, therefore, is nonexistent.
"It doesn't really make sense for utilities to operate as for-profit companies," Macey said.
Utilities are powerful industries in the United States—and, understandably, the owners of Maine's utilities are stressed out about the potential changes Question 3 poses. The ballot has kicked off an enormous flood of cash in the state. In June, Floodlight and the Portland Press Herald reported that organizations funded by Avangrid and CMP's parent companies had already spent $16.5 million on fighting Question 3—about 17 times what the ballot's proponents have spent.
Macey said that even if the ballot initiative succeeds, the utilities will almost certainly sue, kicking off a lengthy legal process that will drag on for at least a few years. And even if courts and regulators allow the initiative to move forward, there are still aspects that are up in the air.
"It's very exciting, but it's a little scary to be in Maine, because they have to work out the details," Macey said.
While Our Power's website paints a rosy picture of what will happen if Maine ditches its for-profit power, non–investor owned utilities aren't a total panacea to everyone's problems. Utilities have an enormous role to play in balancing the energy transition with consumer bills—a massively complex job that doesn't necessarily get easier when those utilities aren't controlled by for-profit companies. The nation's biggest public power company, the Tennessee Valley Authority, has stubbornly held onto coal-fired power for years and has largely dismissed renewable energy options for replacing some of that dirty energy.
Still, what's going on in Maine presents an exciting new possibility for the rest of the country. The utility industry has spent massive amounts of money to ensure that it keeps control of its monopolies and the resulting profits from the American electric system—including fighting against climate action that it sees as costly to its business model. Even if Question 3 fails, it's a powerful reminder that municipal takeover was once a common concept for how governments would rein in utilities that weren't adequately serving their customers.
"Investor-owned utilities are given an enormously valuable gift by the government," Macey said. "Dealing with the specific cost of transitioning away from an investor-owned model may be enormously hard. But I think, despite that, it is really important to note that utilities don't have a license to keep having ballooning costs, failing on their environmental mandates, and failing to meet their reliability obligations."
Good News, Bad News
The path to keep warming below 1.5 degrees Celsius (2.7 degrees Fahrenheit) is getting narrower—but there's still a chance we could get there with aggressive action by 2030, a new report from the International Energy Agency finds.
Domestic oil production in the U.S. will reach a record new high over the next few months.
Stat of the Week
34,000
That's the number of homes, businesses, and other structures projected to be destroyed each year by wildfires supercharged by climate change by the mid-2050s, a new report finds—double the current number.
Elsewhere in the Ecosystem
Hydropower is a major source of fossil fuel–free energy in the Western U.S. But the dams that make hydropower possible have also destroyed valuable rivers and ecosystems, sparking a complex debate in the region about the future of these dams, the Los Angeles Times reports:
Almost everybody wants to protect salmon. Here's the challenge.

Even if every Western dam stays in place, we'll need to build a mind-boggling number of solar fields, wind turbines, lithium-ion batteries and long-distance electric lines to break our fossil fuel addiction—and fast. That's going to be tough, even after the landmark climate bill signed by President Biden last year. Already, opposition to renewable power infrastructure is bubbling up from rural communities, conservationists and tribes as ever-larger stretches of land are eyed by energy developers.

Start tearing down dams, and the energy transformation gets even harder. In a typical year, hydropower plants generate around 6 percent or 7 percent of U.S. electricity. The lower that number gets, the more sprawling solar and wind farms we'll need to build.
Read Sammy Roth's full piece at the Los Angeles Times.
This article first appeared in Life in a Warming World, a weekly TNR newsletter authored by contributing deputy editor Molly Taft. Sign up here.
This article has been updated to correct the forms the new utility may take. The previous version of this piece stated that the new utility could be an agency or a cooperative, but neither of those forms are possibilities according to the language of the ballot initiative.