Should Climate Protesters Be Less Annoying?
Activists interrupted a pro tennis tournament in Washington, D.C., last week—and reignited a debate about how best to wage the climate fight.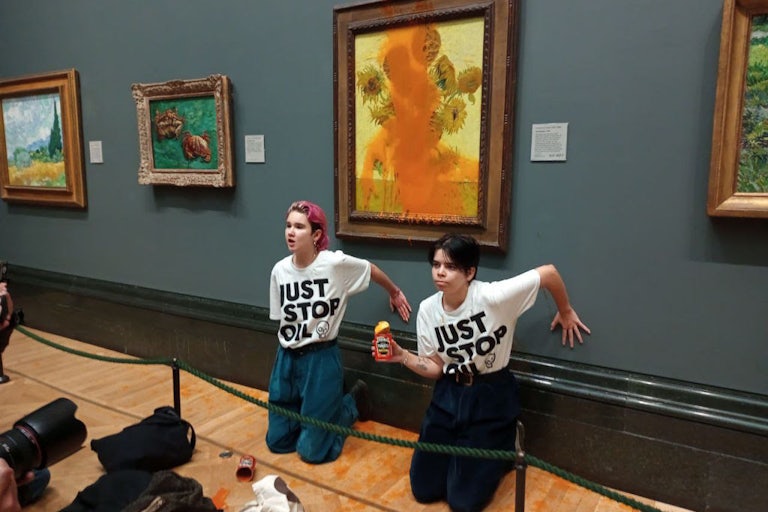 Anadolu Agency/Getty
Just Stop Oil protesters throw soup on Vincent van Gogh's "Sunflowers."
American tennis pro Taylor Fritz beat Andy Murray at the D.C. Open in Washington last Friday. But he was not in a celebratory mood after the match, which had been interrupted by climate protesters who unfurled banners, shouted slogans, and threw oversize tennis balls decorated with flames onto the court.
"It's ruining everyone's time," Fritz told The Guardian. "Everyone wants to watch the tennis. I jokingly said, 'Honestly, this makes me want to go fly on jets more.' I think they're supporting a good cause, but the way they're doing it.… Who's going to want to listen when they're just annoying everybody?" Fritz's feelings seem to have been pretty representative: Fans booed the protesters and then cheered their ejection from the stadium.
The theatricality of the protest reminded me of last year's Vincent van Gogh debacle. In October, climate activists made worldwide headlines for throwing soup and other foods on famous paintings in museums, including van Gogh's Sunflowers. The demonstrations were, literally and figuratively, splashy, and generated a debate about whether these types of protests are productive. That debate—which threatens to overshadow the problem the protesters are trying to draw attention to—was revived again after the D.C. Open disruption. There's a sense from many pundits that extreme climate activists are losing out on public support for their cause by being, well, really annoying.
The idea that the climate movement is reacting with too much panic is one that's baked into a lot of mainstream coverage these days. Center-right thinkers like Matt Yglesias have repeatedly critiqued left-wing climate activists for "losing the plot." A Reuters columnist called Greta Thunberg's critique of the 2021 U.N. climate summit "bad vibes" and "overblown." (At that summit, fossil fuel interests were ultimately able to hijack the global agreement and leave room for the industry to continue to flourish.) Even climate scientist Michael Mann, who has devoted much of his career to effectively communicating the climate crisis, wrote a lengthy piece for Time on why the art protests were a bad idea and why protesters should "[choose] sensible actions and appropriate targets."
There's little that individual people can do to stem the tide of the climate crisis. Government action, especially in the United States, is inexcusably slow. Meanwhile, we're living through the hottest summer in Earth's history. It's not surprising, then, that climate protesters—the ones who are actually doing things—become the subject of our discussions. Instead of real conversations about the massive systemic changes that are needed to save our planet, we turn over endless debates around how people are expressing their fear and rage. Calm down, columnists like Yglesias seem to say. This is not how change is made.
I'm actually not sure what would be defined as an appropriate or effective protest to an increasingly urgent global emergency, or what, exactly, would be the magic action that will change more hearts and minds. At this point, people have literally set themselves on fire to draw attention to the climate crisis; high schoolers have staged hunger strikes and gone to the hospital. The powers that be have responded to these actions with, largely, a yawn. Meanwhile, activists who turn to actual tangible tactics to destroy fossil fuel infrastructure—like blowing up pipelines—have been targeted and jailed with draconian sentences. Fossil fuel–friendly states have moved lightning fast to adopt legislation to define these people as terrorists and make sure this never happens again.
What is the right way to protest climate inaction? I'm not sure the goal should be to engender public sympathy, anyway. If activists only demonstrated in ways that mannerist pundits consider appropriate, they'd be meekly waving signs outside the Environmental Protection Agency.
Living through a time of continual ecological panic, when we can do little as individuals to change what's happening, is an extremely mentally weird place to be, and we're all still learning how to handle ourselves. If I was in that stadium last Friday, I'm sure that I would have been miffed too, wishing the protesters would go away so I could enjoy the match after a long day. But in a big-picture sense, I'm glad people were annoyed. At least they're feeling something.
Good News, Bad News

Following a breakthrough last December, scientists this week repeated a nuclear fusion reaction that produced more energy than was put into it—a major development for fusion technology.

Florida's Department of Education has officially approved materials from a right-wing video production company for public schools, meaning that climate denial videos could soon be shown in state classrooms.
Stat of the Week
That's how much of the world's population experienced hotter than usual temperatures in July, a new analysis finds.
Elsewhere in the Ecosystem
The EPA approved a boat fuel that is so toxic that every person who is exposed to it over an extended period of time is at risk of developing cancer, ProPublica reports:
Federal law requires the EPA to conduct safety reviews before allowing new chemical products onto the market. If the agency finds that a substance causes unreasonable risk to health or the environment, the EPA is not allowed to approve it without first finding ways to reduce that risk.

But the agency did not do that in this case. Instead, the EPA decided its scientists were overstating the risks and gave Chevron the go-ahead to make the new boat fuel ingredient at its refinery in Pascagoula, Mississippi. Though the substance can poison air and contaminate water, EPA officials mandated no remedies other than requiring workers to wear gloves, records show.
ProPublica | Sharon Lerner
This article first appeared in Life in a Warming World, a weekly TNR newsletter authored by contributing deputy editor Molly Taft. Sign up here.