The Powerful Democratic Senator Who Wants to Race Harleys With Mike Pence
Gary Peters is revving Dems' engine for 2024. Plus, a new political group is pushing a universal basic income.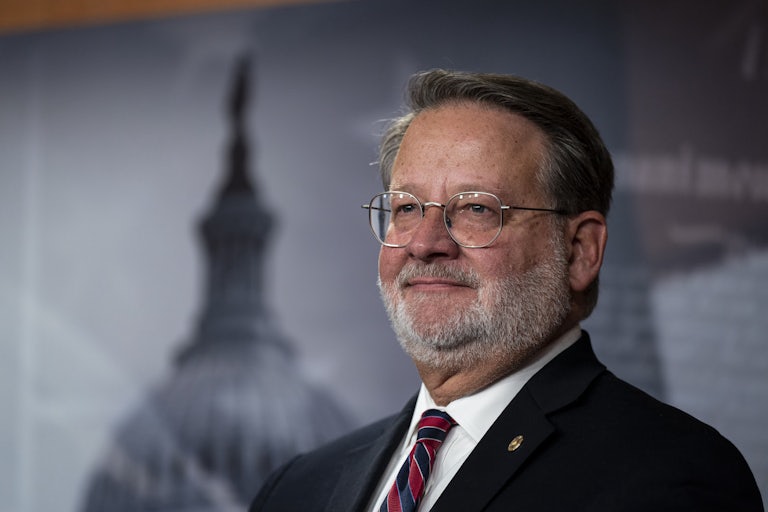 Al Drago/Bloomberg/Getty
Senator Gary Peters
The top
Earlier this week, the TRU Detectives sat down with Senator Gary Peters, the chairman of the Democratic Senatorial Campaign Committee. Peters, the junior senator from Michigan, is one of the lesser-known Democratic senators in American politics. But make no mistake, he is a major player in Democratic politics. He is the chairman of the Senate Homeland Security and Governmental Affairs Committee, whose portfolio includes a range of national security and anti-terrorism topics. A businessman who served in the Navy Reserve, Peters is well liked among Washington Democrats and chaired the DSCC in 2022, when Democrats dramatically exceeded expectations in the midterm cycle and successfully defended every incumbent Senate seat—the first time that's happened since 1934.
Some highlights of our interview with Gary Peters:
"Some of the same issues are at play [in 2024 as in 2022]. One will be candidate quality. There was no question a big factor in our victory last cycle was the fact that our candidates were clearly superior to what the Republicans put forward. Our incumbents and candidates were able to raise the resources they needed. They ran great campaigns, and they were more in line with the issues voters care about."
"Clearly the Dobbs decision was a factor.… That's still going to be a big issue. Abortion is not going away in this election. The Republicans are completely out of step with where a large majority of the American people are. And we're going to run good campaigns. Even if you have a better candidate, that doesn't mean you automatically win an election. You have to run strong campaigns. A big part of our victory last time was the fact that we invested unprecedented amounts in the ground campaign, going door-to-door, starting conversations with voters not just a couple of months before the election but over a long period of time. Build up that kind of infrastructure. In fact I made a strategic decision [for] the DSCC last cycle that we would spend more money on our field operation than we did on television and that kind of media. It was the first time in the history of the [committee] that we did that."
"Reproductive freedom was front and center on the ballot: incredibly powerful in turning folks to turn out. I remember getting pushback from a lot of folks because we were talking about abortion a lot in the campaign and folks said, 'Why are you doing that?' and 'Well, let me remind you our Democratic candidates are primarily talking about economic issues … but they were talking about [abortion as a component of] economic freedom, and they were doing it for one reason: It worked. It was incredibly powerful to turn out people, especially young voters. It was amazing."
"When you look at who did the worst in these elections, they were election deniers, and a lot of Republicans had election deniers on the ballot, and I was just so encouraged by the results that they lost. They lost. That was not a popular thing to take in a general election. It helped them win primaries."
The Run-Up: If Donald Trump is the Republican presidential nominee again, will Democrats be talking a lot about election denying?
Gary Peters: Absolutely.
In many ways, I look at my job more as a mayor than a U.S. senator. What is important in my state? What is important in the individual communities in my state? How can I make a difference in their people's lives for the things that they care most about? And there are some common themes, but there are also some things that are unique.… So you'll see tailored messages in all of our states because that's how senators do their jobs every day. They're always fighting for people in their individual communities, and we have a lot of successes to talk about.
TRU: Where is the DSCC on the Arizona Senate race? Will the committee endorse either Sinema or Gallego? Is there a timetable on endorsing?
G.P.: In Arizona it's still early. We'll have to wait and see how that unfolds. You mentioned Kyrsten Sinema has not made an announcement that she's running. We're not endorsing anywhere right now. We're doing our early work of investing in states that we know we can't let a Republican win. So in Michigan there are a number of folks running … but our focus is, how do we build the infrastructure in Michigan so whoever our candidate is will have the opportunity and the resources necessary to win? I work with Kyrsten Sinema. She's a member of my Homeland Security Committee. She's a valuable member of the committee and works with us very closely on a variety of issues, but she's not announced her intentions so we'll have some time to see what unfolds in Arizona. But in the meantime, we're going to be focused on building up the infrastructure in key states and we're going to be absolutely focused on making sure that, whatever happens, a Republican does not win in Arizona.
TRU: The National Republican Senatorial Committee has been endorsing candidates in primaries this cycle. In the past, the DSCC has done that, but it's been a while. Will the committee do that this cycle?
G.P.: Actually last cycle was the first cycle in a while that that didn't happen. When I came in, last cycle, I did not endorse and that was my intention, not to close the door. There could be a reason why we'd have to endorse, but if we had good candidates running, my view is, let the people in the state decide who they want to have as their nominee in the race and then we will be supportive. But having said that, although we may not be involved in a primary, that doesn't stop us from investing in a state.
TRU: When did you start riding motorcycles? What was your first Harley?
G.P.: When I started I think I was 11 or 12, actually. I really wanted this little minibike. There was this little minibike that I dreamed [of having], and I went to my mom and I said, "Mom, I really want to have this little minibike," and she said, "Well you're not going to have that because they're too dangerous. I'm not buying you a little motorcycle. It's not going to happen unless you buy it yourself. If you can't buy it yourself, you're not getting it."
And I went out and got myself a paper route for the Pontiac Press, at that time—it's a different paper now.
I worked a little over a year and a half delivering my papers and saving up my money, and I went to my mom and said, "Mom, I have the money. I can buy that now." She was not particularly pleased, but there was no way she could renege on that, so I went to the dealer with my dad and bought it, and from then I've been riding ever since. It is kind of my therapy.
TRU: Would you race Mike Pence? He rode a Harley recently at Joni Ernst's Roast and Ride fundraiser.

G.P.: Race him? Yeah, especially on the new one I have. I'm on the Pan America Harley. It'll take anything he's riding, so I'd be happy to do it.
Trivia, tips, and pet pics
We want to hear from you! Do you think Ron DeSantis has made a crucial strategic error in allegedly angering the Republican women of New Hampshire? What are your July Fourth plans? Who's most correct on this Jessica Sidman Twitter thread about the most overrated and underrated restaurants in D.C.? Will you be watching the season premiere of The Witcher this weekend? Should Henry Cavill stay as Geralt? Did you watch Extraction 2?
Or do you want to enter our weekly dog and cat photo contest (winner at the bottom)? Email us: dstrauss@tnr.com and gsegers@tnr.com.
No more Moore
The Supreme Court this week dismissed the once-fringe "independent state legislature" theory, which has become increasingly mainstream among Republican politicians and played a prominent role in efforts to overturn the 2020 presidential election.
The decision in Moore v. Harper has far-reaching implications for future elections. Accepting some portion of the independent state legislature theory could have resulted in unchecked partisan gerrymandering, wherein state legislatures under one-party control could divvy up congressional districts without judicial oversight.
The decision could also affect the 2024 presidential election. In 2020, supporters of President Donald Trump attempted to use the independent state legislature theory as justification to overturn the election results. Hilary Harris Klein, the senior counsel for voting rights at the Southern Coalition for Social Justice, said Tuesday that accepting the theory could have opened a legal can of worms with an "absolute tsunami of litigation challenging state court decisions."
"Any of those challenges that could have been lodged may still be attempted. We cannot say they won't be attempted, but they should be shut down very swiftly by lower courts," Klein said. "I think that we have, thankfully avoided this immense amount of election chaos and uncertainty that we could have had going into 2024, if any version of this theory had been adopted by the court."
Moore v. Harper was brought to the Supreme Court after North Carolina's highest court ruled that its congressional districts were illegally gerrymandered to benefit Republicans. The state Supreme Court later reversed that decision, after Republican judges obtained the majority. The ruling will have little effect on North Carolina, given that the state court has already issued a ruling on its congressional map.
"While the court made the right decision in dismissing a fringe and extreme legal theory outright, we know that the authoritarian forces behind this case will not give up so easily," argued Neha Patel, co–executive director of State Innovation Exchange, an interstate network of legislators committed to advancing progressive policies. The North Carolina legislature, for example, is likely to redraw its congressional map to favor Republicans once more. Patel also pointed out that several Republican-led state legislatures, particularly in the South, have recently introduced and passed restrictive legislation affecting voting access.
But this ruling could also affect a state like Wisconsin, which has an incoming liberal majority that may choose to strike down the state's gerrymandered congressional map. That, in turn, could help determine which party takes control of the House after the 2024 elections. The ruling is also a blow to Ohio Republicans, who ignored a state Supreme Court order to redraw the congressional map ahead of the 2024 election, citing the independent state legislature theory.
But others raised concerns about the powers the Supreme Court reserved for itself in this decision. "In our view, democracy dodged the bullet that shouldn't have been fired," said Stasha Rhodes, campaign director of United for Democracy, which advocates for more serious checks for the Supreme Court. "This independent state legislature theory is so extreme, it really had no business at the court in the first place."
Rhodes argued that the court left the door open for "serious meddling and mischief" in future elections, particularly at the presidential level, in an aside which our colleague Matt Ford likened to a "judicial version of a Marvel post-credits scene." As law professor Rick Hasen argued in Slate, this decision could allow the Supreme Court "to second-guess state court rulings in the most sensitive of cases," as it did in Bush v. Gore.
Efforts to overturn election results likely will not go away in states like Wisconsin, Michigan, and Arizona, Patel argued. "That's still an ongoing fight," she said. "This case has been years in the making … and so what we do from here on out, it's years in the making to come."
Hot universal basic income scoop
Remember Michael Tubbs? The former mayor of Stockton, California, who got national attention for pushing for a universal basic income during his tenure? Well, he's back and taking the lead in a new 501(c)4 organization aimed at supporting lawmakers in favor of introducing an income floor. Tubbs and Saint Paul Mayor Melvin Carter are running the group, whose existence is being first reported by The Run-Up. It will be called United for a Guaranteed Income, or UGI.
According to a copy of the announcement, which your TRU detectives got their hands on: "United for a Guaranteed Income will advocate for anti-poverty legislation at the local, state and federal level, support candidates that are working to create an income floor in the United States, and mobilize Americans to join the fight. This will be a seven-figure campaign through 2024, and will grow from there."

United for a Guaranteed Income is really an evolution of the work of mayors in our country in trying to get a guaranteed income," Tubbs told Daniel. "The idea is to build on the momentum we've seen, the success the pilots, the champions have created, and really organize with a unified voice and speak to the federal government and state governments about the need to make a guaranteed income a policy. So it's really about the evolution from piloting to policy and having the capacity to do so and to use the political system to achieve that goal."
UGI has raised $500,000 to start, according to a spokeswoman for the group.
Document of the week
This week's document is a fundraising invite for Representative Ruben Gallego's Senate campaign. The interesting thing about this fundraiser is that the headliner is none other than former House Speaker Nancy Pelosi. The fundraiser was first reported by NBC News.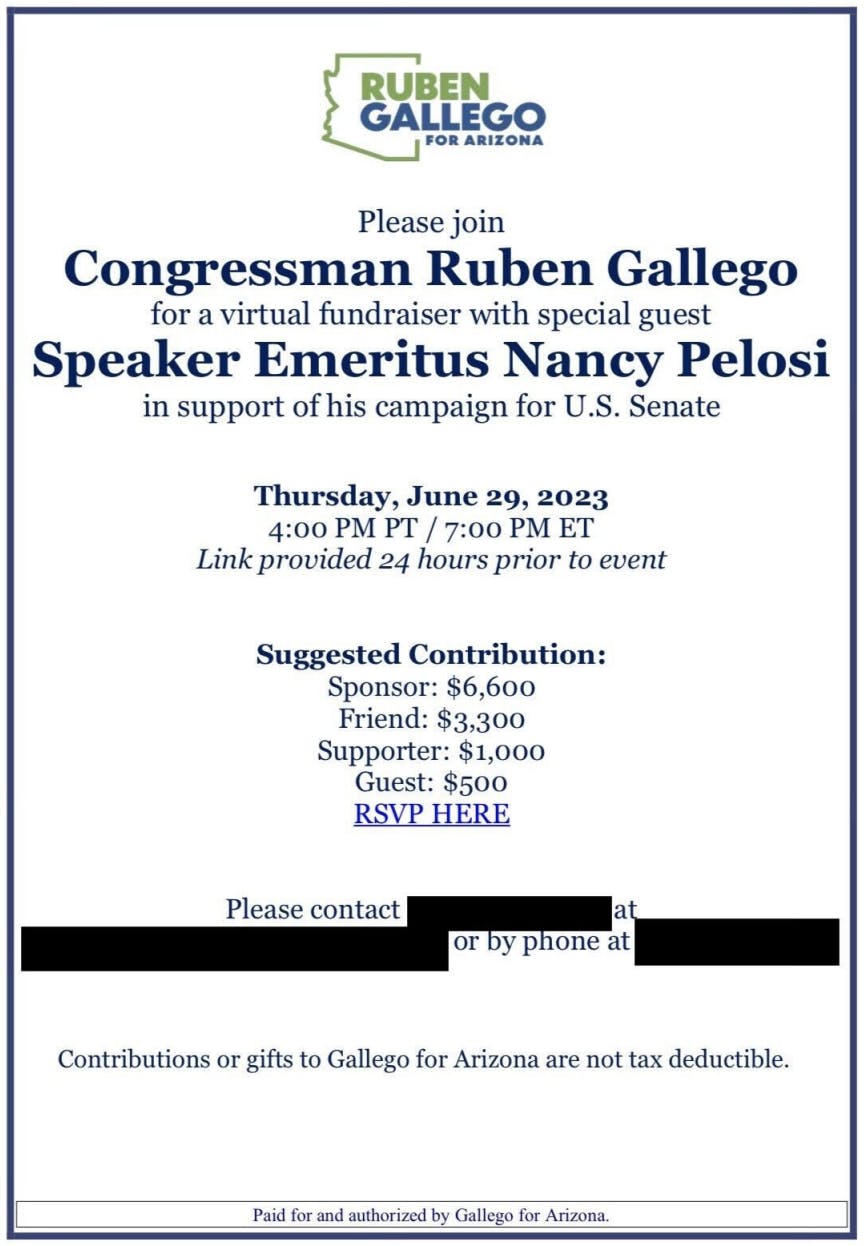 News and views
Local flavor
On the trail: Trump-DeSantis split-screen moment in N.H., by Paul Steinhauser in The Concord Monitor
Sarah McBride announces run for US House seat to become first trans member of Congress, by Meredith Newman in The Delaware News Journal
Miso soup
This week's winner of our weekly pet contest is Miso, submitted by her human, Shefali Luthra of The 19th. Miso is a cat of contradictions: She hates to be picked up, but she loves a very gentle belly rub. Miso also hates the rap duo Run the Jewels (specifically Meow the Jewels) and Porgs but loves watching The Sopranos and playing with dumbbells and bike pedals.