Inside the Debt Limit Blame Game
PLUS: Mississippi's hottest political race, and a conversation with Ben Terris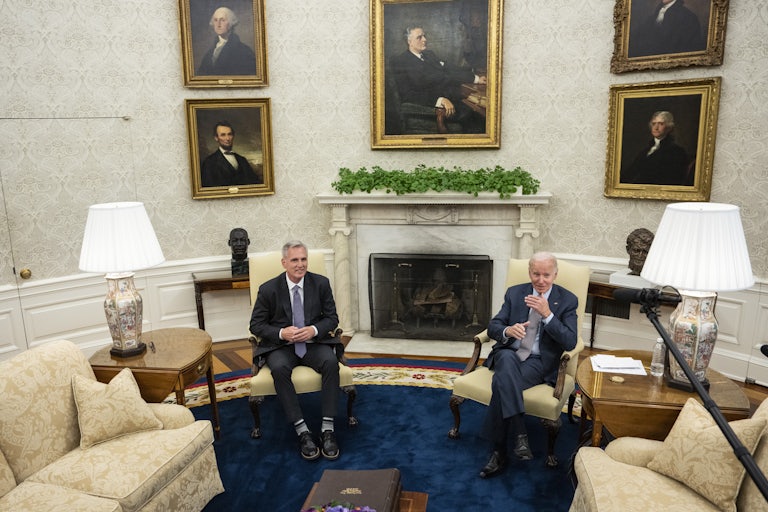 Drew Angerer/Getty Images
The top
This week, we were delighted to have Washington Post Style reporter Ben Terris join us for a special edition of The Run-Up Live. Ben's new book, The Big Break: The Gamblers, Party Animals, and True Believers Trying to Win in Washington While America Loses Its Mind, will be published on June 6. We spoke with Ben about some of his favorite stories and characters from The Big Break, how writing a book differs from writing profiles, his thoughts on the brokenness of American politics, and where he sees cause for hope. Here are some excerpts from our conversation, lightly edited for clarity:

On whether Tim Scott believes he can be elected president: I think that he thinks something good will come from this. And could that be president? Sure, he probably thinks so. I mean, he's lived a life where he's accomplished things that everybody told him he could never accomplish. It's been very impressive. He's very religious; he probably feels called to this in one way or another. And he can always say, "Look, I'm the spiritual core of this party right now. And we need somebody like me out there to bring down the temperature." And maybe there's value in that. But it's not really surprising to me, because the guy's been moving up forever, and eventually you move up high enough and, oh, there's the White House, right? Like, there's not that many things to look for anymore.

On how Donald Trump changed Washington: They're all the same creatures in Washington, but it's a little bit more toxic, a little bit like everything could grow to greater proportions. And so it's a weirder place than it's ever been. But I don't know if he fundamentally changed every part of it. The same kinds of people are doing the same kinds of things. They're just doing it in grosser ways.

On why Republican politicians stand by Trump: He's got the base. The base loves him; that's not going to change. The more he gets attacked, the more that this maybe 25 to 35 percent of the country is going to support him no matter what. And that's a big number in primary politics. And then in Washington, I think people just are a bunch of weathermen, watching which way the wind blows on that. And they see, "OK, well, if he's going to be the front-runner throughout, then yeah, I'm not going to start attacking him on TV, I'm not going to start disinviting him to CPAC," or whatever. Of course, they're gonna connect with him because they think he's gonna win, and that's their meal ticket.

On whether he has gotten jaded about Washington: A lot of people come to Washington specifically to do good. There's this idea of Washington that it is purely filled with swamp things and cynical creatures. And they get a lot of attention because they're important, and I give them attention in the book. But I spent time … with a lot of people who are just here to do the work. And I find that kind of inspiring.

On writing about people who shape politics behind the scenes: That's sort of the gamble I've taken with this book, right? There are big-name people throughout, but the main characters are the real Washington people. And I think that's more interesting, in a way, than getting big-name senators to give me interviews. I'd rather be around the people that make it work.

Check out the rest of our conversation with Ben Terris here.

Debt limit blame game
Listen, everyone knows defaulting on the debt would be really, really bad. We know it, you know it, congressional Republicans know it, the White House knows it, the world knows it. But rather than screaming into the void yet again about how defaulting on the debt would be really, really bad—because clearly no one is listening—we've decided to participate in one of Washington's favorite pastimes when it's mired in an entirely predictable and preventable mess of its own making: the blame game.
If the worst happens, and the American and global economies are pushed into a tailspin, and people don't receive their Medicare or Social Security benefits, and interest rates spike, and China looks on gleefully as our position on the world stage is undermined by our own political unwillingness to act—sorry, sorry, we said no void-screaming!—everyday Americans are going to blame someone. Will they fault President Joe Biden, who bullheadedly said he wouldn't negotiate for months, incorrectly betting that Republicans would blink first? Or will they blame House Republicans, who held the economy hostage so Speaker Kevin McCarthy could keep his gavel?

Some not totally terrible news for Biden, who loves to overuse the phrase "Don't compare me to the Almighty, compare me to the alternative": The American people may not be happy with how he's handling the situation, but they're even more annoyed by Republicans. A CNN poll released this week found that 59 percent of Americans believe Biden has acted irresponsibly on the debt ceiling, while 64 percent believe Republicans have not acted responsibly. A Quinnipiac poll released Wednesday found that 38 percent of Americans think Democrats and Biden are acting more responsibly, compared to 37 percent who feel the same about McCarthy and Republicans.

In terms of blame: An NPR/PBS NewsHour/Marist National Poll, also released this week, found that 45 percent of Americans overall would mostly blame congressional Republicans if the country defaulted on its debts, while 43 percent would primarily blame Biden. However, 47 percent of independents would mostly blame Biden, which is not great for a president who will need to swing independents in the upcoming election. Those findings echo an ABC News/Washington Post poll from earlier this month, which showed that 39 percent of Americans would blame default mainly on congressional Republicans, compared to 36 percent who would mostly blame Biden. Meanwhile, a Reuters/Ipsos poll found that three-quarters of Americans are worried a default would hurt them financially—again, not great for politicians looking to get reelected in 2024!

But Biden is staying out of the spotlight, while McCarthy and his lieutenants are talking to the press constantly. When asked during one of his many press scrums whether he believed the public would fault the GOP, McCarthy replied: "I don't see how they would blame Republicans." "If you want to blame Republicans for solving problems, we'll take that blame," he continued.

Representative Pramila Jayapal, the chair of the Congressional Progressive Caucus, shot back: "That means [McCarthy] knows he's to blame. If you have to say it that many times, you're to blame." When asked whether she believed Democrats would shoulder any blame, Jayapal replied, "I really don't." "It is not us that are trying to tank the economy, crash the economy. It is not us that are trying to take away benefits," she said.

Congressional Democrats are getting antsy that the White House will make too many concessions to the GOP, even as Republicans may need dozens of them to vote for a final deal. There's an ongoing battle to define the conversation on the debt ceiling—in the press and among the public—and it's not one Democrats are winning right now (even if they have been given a messaging gift by Matt Gaetz).

This may all become moot, and economic catastrophe averted thanks to a last-minute deal. But even if that's true, the president and members of Congress shouldn't be surprised if the American public dislikes them all the more for playing high-stakes chicken with their livelihoods and economic security—again.

Trivia, tips, and pet pics
We want to hear from you! Are you Shalanda Young or Steve Ricchetti, and if so, how close are you to a deal actually? Who should Americans blame for the debt ceiling debacle? What did you think of Ron DeSantis's Twitter Spaces presidential announcement? Do you think it was a smart move for him to appeal to the base, or a strategic error given the site's irrelevance for most Americans?
Or do you want to enter our weekly dog and cat photo contest (winner at the bottom)? Email us: dstrauss@tnr.com and gsegers@tnr.com.

Mississippi's Marjorie Taylor Greene
Down in Mississippi, there's an under-the-radar contest that has outsize importance. Races for lieutenant governor don't usually attract much attention, even around the state in which they're taking place. But Mississippi voters ignore this race at their own risk. That's because of both the power of the lieutenant governor and the candidates running for the job. The lieutenant governor of Mississippi, unlike other states, is the president of the state Senate, giving whoever has that role broad authority to assign committee chairs and essentially advance or halt legislation. The incumbent running for reelection is Delbert Hosemann, a Republican.

Hosemann is being challenged in the Republican primary by state Senator Chris McDaniel. TRU followers with a passion for Mississippi politics (like Daniel) will think of McDaniel as a bit of a household name. He was the upstart state senator who gave establishment Republicans a real scare in the 2014 Senate cycle, when he challenged the late Senator Thad Cochran. That race turned out to have a bunch of bizarre twists and turns. Years later, McDaniel would run again to the same, disappointing, result. But since then, McDaniel's efforts have borne fruit in the form of a hard-right cult following, à la Roy Moore in Alabama—or even Donald Trump. One longtime Republican operative derisively described him as the "Marjorie Taylor Greene of Mississippi."

In January, McDaniel jumped into the lieutenant governor's race. Since then, he has been hit with questions about his fundraising and donations. In April, McDaniel returned $460,000 to the American Exceptionalism Institute, a dark-money organization that funneled funds to other state PACs—including one that backed Republican Blake Masters in his bid for Arizona Senate. It's become something of a pattern. Hosemann's team also recently challenged how much McDaniel said he raised and called for an investigation.

But the differences between Hosemann and McDaniel aren't just campaign-related. Hosemann came around to supporting changing the state flag to remove its Confederate elements. McDaniel not only opposed that, he actively worked against the change, further underscoring his ties to neo-Confederates.

This might be a little-discussed race in a smaller state, but the characters involved are representative of some larger trends in American politics. It's worth paying attention to.

Document of the week
Yesterday was Ron DeSantis Announces™ Day, where everyone in DeSantis's nascent political orbit finally got ready for the big event—and all the press expected to finally know if he's been worth the hype or not. In that vein, one of the earliest outside efforts to lay the groundwork for the Florida governor, Ready for Ron, changed its name to Ready to Win. The super PAC, run by Republican strategist Ed Rollins, has been eclipsed by the Never Back Down super PAC run by Republican strategists Jeff Roe and Chris Jankowski. The filing suggests the Ready to Win super PAC still plans to use the Ready for Ron moniker: "Ready to Win will operate a special project under the name Ready for Ron." Note also, though, there are indications Rollins may be "souring" on DeSantis, so the name change may be about creating some distance from the newest Republican presidential candidate.

The pop culture segment
Toward the end of our conversation with Ben Terris, we asked what his favorite political books are. He highlighted titles by Mark Leibovich, and particularly This Town. "That book really is great. It captures a moment. It's super fun," Ben said. "Mark Leibovich is an incredibly lively writer, and he makes it seem effortless."
This Town was published in 2014, and politics have changed in the past decade. "It is a different Washington that he's covering, which is why I feel like [The Big Break], in a way, really needed to be written," Ben told us. "If there wasn't another take on what it's like to be in Washington, [This Town] would, sort of, be the last book about it."

So, if you're a fan of This Town—and hey, you're reading this newsletter, so I would guess you are—check out The Big Break.

Inside the garden of evil, by Graeme Wood in The Atlantic: "[Harlan] Crow is like most people, in that he feels he has acted with the purest and most honorable intentions. He is unlike many, though, in thinking that the world should take his word for it—and that if it does not, that's the world's fault, and not his."
Does Eric Adams still think it's easy to be mayor? by Errol Louis in New York: "Even if the Mayor doesn't realize it, the hard part began a long time ago. And he should recognize that New Yorkers don't care whether Adams feels like he has an easy job: What matters is whether he's doing it well."
Do Americans really want "unbiased" news? by Peter Kafka in Vox: "Both [CNN and The Messenger] are trying to position themselves as an antidote to 'biased media,' and promise to deliver down-the-middle news. The problem is there's not much evidence that people are clamoring for that, which makes it hard to envision a light at the end of the tunnel for either company."
Got a long read you'd like to share? Email us, and we'd be happy to include it in next week's newsletter.

Georgia peach
This week's pet of the week is Anna from Georgia. Her human is Kelsey VanZee. Anna was adopted in May 2014 from Clayton County Animal Control. Anna is a classy canine that loves water and jazz music.