Tim Scott Tiptoes Toward 2024
PLUS: Lawmakers eye A.I., and a quick and dirty election round-up.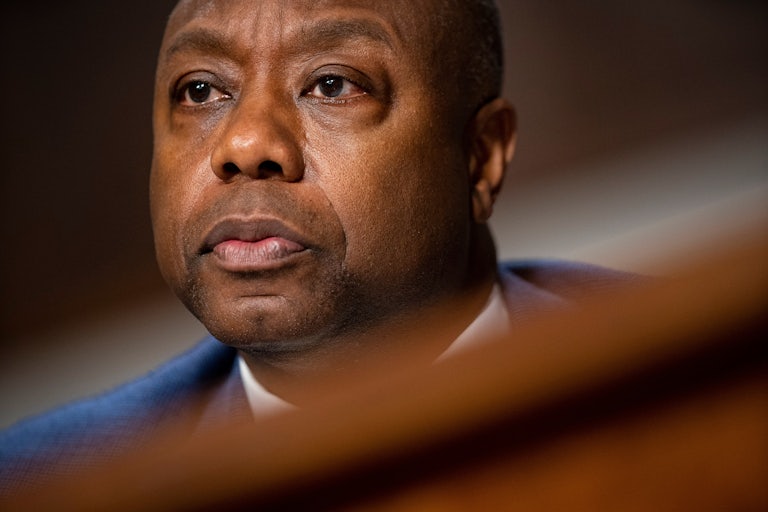 Al Drago/Getty Images
South Carolina Senator Tim Scott
The top
There's a handful of likely Republican presidential candidates who want you to know that they're really actually, super seriously, almost ready to announce their presidential campaigns. Florida Governor Ron DeSantis and his team (and super PAC) have been about as coy as a monster-truck rally about his plans. Former Vice President Mike Pence is going to New Hampshire to sample the fast-food offerings, as one does (no one does just that, actually), and South Carolina Senator Tim Scott has a big event scheduled at Charleston Southern University, his alma mater, in a few days. It's pretty clear he's running. Why else would he be adding big-name Republican muckety-mucks to his team?

DeSantis and Pence have both been rather deliberate as they've road tested their themes for their upcoming presidential campaigns. Pence plans to portray himself as his own man (you know, like Jeb!) and as a "classical conservative." DeSantis seems to be focused on the fact that he's more of a winner than Donald Trump. His team sees a waterfall of support and money coming in the millisecond he officially jumps into the race, according to this Jonathan Martin joint.
But Scott is a bit of a mystery. He clearly prefers an optimistic approach to running for president instead of the "American carnage" theme that the last Republican president loved. But there have been moments, as Scott sorts out what he's all about, that have been comically vague. "I think my candidacy is really designed around what the American people want to talk about, what their priorities are, and what their issues are," the South Carolina senator said during a recent stop in Iowa, according to the Associated Press.
Well … yeah … but in the same article, Scott also said he felt conservatives are "starved for hope."
A Republican close to Scott's likely presidential campaign described it as "constructive conservatism."
"Polls show that a majority of Americans are worn out by the state of politics and don't want a 2020 rematch. Tim Scott would run as a breath of fresh air and seek to unify the GOP and nation around constructive conservatism," the Republican told The Run-Up.
In private meetings with donors, Scott has said he wants to take a "kill-them-with-kindness approach, and he maintained that positivity is core to his personality and to his potential campaign," according to a New York Times report on Scott's prototype presidential campaign. But Scott also plans to defend himself in the face of attacks. At the very least, whenever Trump is asked about Scott's candidacy—and it's a when not an if—the former president will predictably and clumsily try to offer a backhanded compliment of sorts that will really just be some kind of crude insult. It's what Trump does. The real question is how the kind and optimistic Scott plans to respond. If he laughs off Trump, it's hard to imagine a flock of Republican voters rushing to the South Carolina senator's side.

Nevertheless, durability looks increasingly like the name of the game in this Republican presidential primary. Whichever candidate can outlast the others may actually best Trump in the end. Donald Trump benefited from his rather unique "Teflon Don" approach to politicking. If Scott wants to go far in this primary, he will have to bet on being "Teflon Tim."
About the night before last night
In case you missed it, there were elections this past Tuesday. Here's a short roundup of the results we found most interesting:
Kentucky governor's race: Attorney General Daniel Cameron won the Republican nomination to face incumbent Governor Andy Beshear. Cameron won the primary with 48 percent of the vote, with Agriculture Commissioner Ryan Quarles getting 22 percent support and former Ambassador Kelly Craft getting 17 percent.
Former Philadelphia City Councilwoman Cherelle Parker won a divided Democratic primary to face Republican David Oh in the general election for mayor. Note that Parker beat, among others, Helen Gym, whom progressives had seen as a rising star.
In Colorado, Yemi Mobolade won the mayoral election for Colorado Springs. Mobolade will be the first Black mayor of the city. He will also be the first non-Republican mayor.

Trivia, tips, and pet pics
We want to hear from you! Are you Zac Moffatt, Generra Peck, or former Governor Bill Haslam? Is Biden's campaign too slow to get off the ground? Should the Senate cancel the Memorial Day recess to deal with the debt ceiling? Did last week's episode of Succession give you election-related PTSD? Daniel is intent on finding Swedish gin after reading this Esquire list. Do you have some? Is Raquel Leviss on Vanderpump Rules the most villainous villain of all the Bravo shows?

Or do you want to enter our weekly dog and cat photo contest (winner at the bottom)? Email us: dstrauss@tnr.com and gsegers@tnr.com.

Pretty fly for an A.I.
Congress is beginning to realize that it may want to take this whole artificial intelligence thing seriously. Although not exactly pioneers in regulating emerging technologies—see: "The internet is a series of tubes"; the complete failure to address the rise of social media—lawmakers of both parties agree that A.I. is not something they can ignore.
Sam Altman, CEO of the company behind ChatGPT, testified before a Senate subcommittee this week about the ramifications of A.I. technology and the need to install guardrails. Altman also met with House members on Monday and Tuesday.
"Mr. Altman and others in the industry are saying, 'Please regulate us. We need Congress to step in and do something,' and so we're already behind the eight ball in my view," said GOP Representative Mike Johnson, who co-hosted a bipartisan dinner with Altman on Monday evening. "I think all of us want to make sure that it's used for good and not ill. The specifics of how that's done is—we're in uncharted waters. But there's a lot of goodwill."
Altman said in the Tuesday hearing that he was "nervous" about how A.I. could interfere with election integrity. It's a concern shared by many members of Congress, including a group of senators who introduced legislation this week to require that any ads that use A.I.-generated images or video include a disclaimer.
"There was a time in which campaign finance was a bipartisan issue because people on both sides were really concerned about its impact. And I think that this is one of those things where both sides are concerned about how it can impact their elections," said Democratic Senator Cory Booker, one of the co-sponsors of that bill.
GOP Senator Josh Hawley, the ranking member of the Senate subcommittee that hosted Altman on Tuesday, told The Run-Up that he was worried about how A.I. could influence "behavior modification" in elections, citing a study that found A.I. could predict public opinion. Hawley, who has not signed onto the bill co-sponsored by Booker, Senator Amy Klobuchar, and Senator Michael Bennet, expressed support for its basic principle.
How Kyrsten Sinema uses campaign cash for her marathon habit, by Sam Brodey in The Daily Beast: "On at least six total occasions since 2019, Sinema has participated in a race while engaging in fundraising activity—and covering expenses—in the area of the competition, according to a review of public campaign finance and competition records."
A bouncy, fresh brand of Trumpism, by Elaine Godfrey in The Atlantic: "The Millennial candidate [Vivek Ramaswamy] is a bit like the GOP version of Andrew Yang: a get-up-and-go business bro who does something vague in the new economy, and who seemed to wake up one day and ask himself, Why not run for president?"
Eric Adams is starving New York City's universal pre-K program, by Fola Akinnibi in Bloomberg: "The mayor inherited America's leading early childhood education system. Now a depleted education department can't even pay providers."
Who is Leonard Leo's mysterious dark money king?, by Nina Burleigh in The New Republic: "America needs to know who Barre Seid is, what kind of country he wants, and just how massive an impact his $1.6 billion gift can have on our political discourse."
Frank Luntz can't quit, by Ben Terris in New York: "The GOP's wunderkind pollster swore he was finished with Washington—except that penthouse with Kevin McCarthy." (Check out Grace and Daniel's conversation with Ben in TRU Live next Tuesday!)
Got a long read you'd like to share? Email us, and we'd be happy to include it in next week's newsletter.
Best o' Pesto
This week's winner of our pet photo contest is three-legged wonder Pesto, submitted by Meghan Meehan-Draper. Pesto lost his leg due to lack of care from a previous owner but was rescued as a kitten and has brought joy to his adopted family ever since. Pesto's hobbies include running, climbing, and regular zoomies up and down the stairs. He also loves people and has the gift of (cat) gab.