The Stupid Myth That Mitt Romney's Mistreatment Gave Us Trump
Some conservatives argue that the way Democrats pilloried the Utah senator in 2012 pushed the Republican Party toward Trumpism. They should take a long look in the mirror.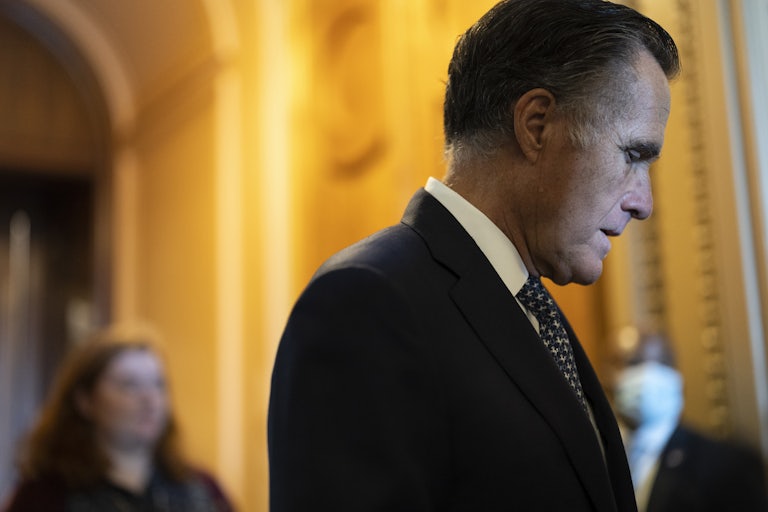 Anna Moneymaker/Getty Images
Utah Senator Mitt Romney
As the Republican Party descended headlong into Trumpism, one lingering question has doggedly remained a point of fascination for pundits and political analysts: Did they fall, or were they pushed? There is a long list of culprits blamed for sending the GOP past the point of no return, from Jeb Bush to Barack Obama; from the Citizens United decision to gerrymandering. Nixon, FDR—even Kim Kardashian has made this list. But on social media in recent days, we've seen a slight uptick in one popular version of the Trump origin story: Republicans were radicalized by the tawdry way liberals treated Mitt Romney during his 2012 election run.
I'm not normally interested in what a few people happen to be tweeting. But this is no mere passing fancy. The lore surrounding Republicans being forced into a psychotic break because Mitt Romney was treated indelicately has been around for a long while. As Vox's Zach Beauchamp reported in 2020, "Many conservatives have embraced" the idea that "Democrats smeared the kind and decent Romney so brutally … that Republicans became inured to this kind of argument and convinced there was no advantage to playing nice anymore.… Call it the 'look what you made me do' theory of How We Got Trump," Beauchamp writes.
It's an alluring cop-out. It's clear that many really want to believe it. But I have long memories of the 2012 election and its aftermath, and folks, these claims don't add up.
Make no mistake: The people behind Obama's reelection campaign did what they deemed necessary to win. Romney was mercilessly characterized as an out-of-touch plutocrat, a step back in the direction of the vulture capitalists who brought the economy down in 2008. Romney's biggest problem was that this particular shoe fit a little too snugly.
But sure, the Obama team wasn't pure as the driven snow during that campaign, and liberals didn't exactly strive to be some model of decorum either. Obama fans dined out on lots of shallow, mean-minded stuff like Romney's equestrian interests and the saga of his family's roof-bound pooch. Obama and his allies had plenty of ignoble moments as well. Romney's comment that he "liked to fire people" was ripped from its context and used to paint him as an unfeeling toff. Then–Vice President Joe Biden knew he was punching below the belt when he told the crowd at a Danville, Virginia, rally that Republicans were "going to put y'all back in chains."
But politics, as they say, ain't beanbag; most of this stuff was fairly normal, relative to presidential campaigns. Little of this particularly rose to the level of, say, the Swift Boat Veterans for Truth. One thing that came close was an egregiously mendacious ad by an Obama-affiliated super PAC that essentially blamed Romney for a steelworker's wife's cancer diagnosis and death, while Romney was running Bain Capital.
But when it came to doing Romney dirty, Democrats had some pretty strong Republican rivals. While Obama criticized Romney's Bain Capital past, it was Newt Gingrich who released an entire documentary about Romney's allegedly destructive tenure as the firm's head. Over the course of four months in 2011, Bill Kristol wrote seven separate columns for The Weekly Standard about how much he disliked Romney and wanted a different candidate to wrest the nomination from him. The antipathy of conservatives dogged Romney throughout the campaign and prompted some of his worst moments: his weird insistence that he was "severely conservative"; his infamous call for immigrants to "self-deport" themselves; and his quest to earn the endorsement of Donald Trump, who was then at the height of his reign as King of the Birthers.
In the wake of the Bain Capital cancer ad, campaign spokeswoman Andrea Saul went on television to defend Romney and, along the way, said, "To that point, if people had been in Massachusetts, under Governor Romney's health care plan, they would have had health care." This was a huge mistake. Saul was subsequently pilloried by conservatives for defending him by invoking such a (gasp) liberal achievement—by that point, Obamacare was the law of the land and it was verboten for Romney to mention his Massachusetts health care innovation. Romney was even forced to cut a line from his book about bringing that reform to the entire nation.
This was perhaps the greatest wrong done to Romney. The entire reason he had emerged as a presidential contender among Republicans was because he understood that there were problems that needed solving and that conservatives needed to compete with liberals in a war of ideas to solve them. Romney may be the only Republican in Washington who's actually notched a recent major policy accomplishment that was celebrated across partisan lines: His Commonwealth Care was an example of this brand of politics; when there were enough Republicans interested in co-opting liberal issues and beating Democrats to market with solutions, Romney was top dog. He won the Conservative Political Action Conference straw poll four times between 2007 and 2012. But as I wrote in 2012, the party turned on him: "For all of the grief that Romney has taken for his multitude of flip-flops over the years, those are not, collectively, as damaging to Romney's ambition as the way the Republican Party has flopped on him."
Conservatives may want, even need, this ersatz martyrdom of Mitt Romney to exist to explain away their Trumpian turn, to spin the story that liberals' treatment of Romney's shortcomings gave them no choice. This all neatly forgets the fact that Republicans very much could have taken a second path but chose to abandon it. They sure have a funny way of treating their martyr, though. In 2020, CPAC chairman Matt Schapp told Greta Van Susteren that the four-time straw-poll winner would not be physically safe if he attended the conference. The fact is that Republicans have long been, and continue to be, Romney's most dedicated persecutors. And through their persecution of him, they gave themselves permission to make their radical turn a long time ago.

This article first appeared in Power Mad, a weekly TNR newsletter authored by deputy editor Jason Linkins. Sign up here.