The Race to Defeat Ted Cruz Is Getting Crowded
PLUS: Why Jamie Raskin isn't running for the Senate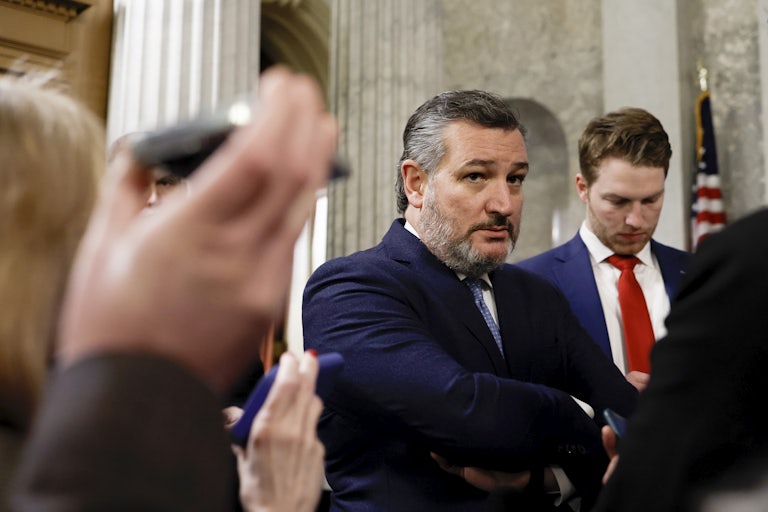 Anna Moneymaker/Getty Images
Texas Senator Ted Cruz
The top
And then there were two.
That was the situation when, on Monday, Texas State Senator Roland Gutierrez formally jumped into the Senate race to unseat Senator Ted Cruz. The addition of Gutierrez means there are two high-profile candidates in the Democratic primary to take on Cruz. Until Gutierrez's announcement Representative Colin Allred was far and away the front-runner in the primary.
In the past, the most high-profile Democrats running for office (Beto O'Rourke, Wendy Davis, M.J. Hegar) have all effectively had their primaries to themselves, allowing them to focus on their then-likely Republican opponent in the general election.
And they all lost.
But that was then and this is now. Every election is different and this time Democrats have Cruz's 2021 absence from the state during a big power outage and the 2022 Uvalde shootings to criticize him on, in addition to all the regular knocks on Cruz. Oh, and then there are also Texas's strict abortion laws.
Then again, this is Texas, the reddest of the red states and divided primaries do affect the outcome of an election. One veteran Democratic campaign manager who's worked in Texas put it this way:
Both of these campaigns are going to have to be splitting their attention to do a lot of work.… There's enough factions in Texas right now. You gotta get your party on board. You gotta get groups on board—and by the way Texas is a crab bucket. Texas is fighting to pull everybody to get to the top but they pull each other down in order to do it. And you don't have time for that right now. The stakes are too high. There's too much work to be doing that. They need to learn how to get along and to start winning—this doesn't help that. This is going to have people pick sides and more dangerously it's going to put people on the sidelines. Luckily they're still running against Ted Cruz.
Polling is sparse but a Texas Hispanic Policy Foundation poll from May found Allred leading the primary field with 33 percent and then Gutierrez with 22 percent. Now, it's early, it's just one poll, and all the other caveats, but Gutierrez's entrance means this will likely be a divided primary. Democrats will have to hope it won't be too divided.
Trivia, tips, and pet pics
We want to hear from you! Which fundraising announcements have surprised you the most ahead of the end of the third quarter? Are you excited to see the new Mission Impossible movie?
Or do you want to enter our weekly dog and cat photo contest (winner at the bottom)? Email us: dstrauss@tnr.com and gsegers@tnr.com.
Lessons from 2022
"It all comes down to turnout" is a cliché for a reason. A new report from Pew Research Center shows that Republicans won the House in 2022 in large part due to higher turnout by GOP voters, with 71 percent of those who supported Donald Trump in the 2020 presidential election voting in the 2022 midterms, compared to 67 percent of people who had cast ballots for Joe Biden.
"This report offers, to some degree, some guidance to the parties about who they need to turn out if they hope to win," said Andrew Daniller, a research associate at Pew Research Center. While these results "are not shocking revelations," they further confirm that Democrats need to turn out women in greater numbers relative to men, and younger voters compared to older voters, for example. "Those are the kinds of things, if we assume turnout is the biggest factor here, that the parties probably need to focus on if they want to do well in the next election," Daniller continued.
The report sheds further light on some of the narratives that have recently swirled among the political commentariat: the idea, for example, that Republicans are making gains with Hispanic voters, who have historically supported Democrats. Hispanic voters continued to support Democrats in 2022, but by a much smaller margin than in 2018. This was due not to changes in party affiliation, but to "asymmetric changes in voter turnout," according to the report.
"Our interpretation is that Hispanic voters who tend to be Republican voters may not have shown up in 2018, but did show up in 2022," said Daniller. "By the same token, there are some Hispanic voters who went to vote in 2018, and had they voted in 2022, might have been inclined to stick with the Democrats—but they didn't actually turn out in 2022."
The report also found that the vast majority of voters stuck with their partisan preferences, with just 6 percent crossing party lines between midterm elections. But Daniller noted that, of those voters who changed their preferences between 2018 and 2022, Republicans gained ground particularly with rural voters and with white, non-college-educated voters. Among rural voters, for example, Republican candidates earned support from 97 percent who supported them in 2018, while Democrats held onto only 91 percent.
"We're in an era when almost every election is determined by two, three, maybe four [percentage] points," Daniller said. "So even if we're only measuring the impact of persuasion as affecting a [percentage] point or two, it's very possible that [that] could swing a national election."
Although turnout in 2022 was not as high as it was in 2018, it was still largely unprecedented for a midterm election in the modern era. Because presidential elections tend to see higher participation rates than midterms, it's entirely likely that party turnout will determine the outcomes in 2024, not just of who ends up in the White House, but who maintains or gains control in the House and Senate.
"2022 suggests to me that we might just be in an era where we're going to see higher turnout. And it may not always be as high as 2018, but it might be high for a few years to come," Daniller said.
Raskin's reasons
Maryland Representative Jamie Raskin surprised some political observers when he announced last week that he would not run for Senate. Raskin had been publicly mulling a bid after longtime Senator Ben Cardin announced he would retire at the end of his term. TRU spoke with Raskin about his decision, and whether he'd consider a bid in the future. This interview has been lightly edited and condensed for length and clarity.
TRU: Why did you end up making this decision?
Jamie Raskin: It's been a convergence of things. I'm in the thick of this struggle to defend democratic institutions against this MAGA attack on the rule of law, and I feel like I'm in a significant position to do that as the ranking Democrat on the Oversight Committee. If we take the House back, I'll be the chair of the committee.
I'm being called upon by a lot of colleagues to help them out in the country and I think I can contribute to their campaigns in lots of different ways. That was one part of it.
My family's been through a lot. In the week before the Fourth of July, this guy got picked up at the Obamas' house with firearms and Molotov cocktails in his car. And he'd come to our house first, he visited one of the schools where my kids went to school. And a lot of things converged just to say that perhaps it's not the right time to do that.
On the other side of it, I was getting tremendous encouragement and some pressure from people in Maryland [to run for Senate]. And that's the part of it that still tugs at me. I love our state, as well as the country, and I don't want to let people down. And I said in my letter that I would remain attentive to everything that's happening in the race, and I would do whatever I could to make sure that we elect a strong, true-blue Democrat.
TRU: Do you think if a Senate seat came open again in the near future, you would consider running?
J.R.: In normal times I think it would have been a relatively easy choice to run for the Senate, precisely because I love not just the district so much but the whole state. It would have been an opportunity to interact with the state. But I just felt that it would take me out of the day-to-day defense of democracy against this continuing effort by Trump and his acolytes to overturn our institutions.
I found it a very close choice, two excellent choices. A lot of it came down to that I prefer to spend the next year helping to elect a Democratic majority in the House, which is so essential, rather than running against Democrats. Perhaps there's a way of doing both, but I wasn't able to figure out at that point how to do it.
TRU: Do you have any plans to endorse in the primary?
J.R.: I haven't gotten to any of that stuff yet. It's still very, very early in the campaign season. But I was just so besieged by people calling and texting and wanting to meet that I felt the need to say something now in order to focus on my work.
America is moving on from Covid. That's not good for Ron DeSantis, by Dave Weigel in Semafor: "Ron DeSantis, whose battles against mask and vaccine mandates made him a Republican star, has lost ground as voters move on from the pandemic."
The influencer who came to Congress, by Eric Cortellessa in Time: "To some, [Anna Paulina Luna is] a dangerously effective new version of the millennial MAGA politician ready to tear down the institutions of government in pursuit of an ultraconservative revolution. To others, she's something more, the vanguard of a potentially significant turn in American politics."
Got a long read you'd like to share? Email us, and we'd be happy to include it in next week's newsletter.
Winston the Winner
This week's Pet of the Week is Winston whose human is Laura Engquist. As of Monday, Winston is a one-year-old mini goldendoodle who was born in southwest Missouri and now lives in Washington, D.C. He loves going on long walks, hanging out with his pals at the Salt Line, and sprinting through the Capitol sans a leash.