Was I scamming Toby Keith, or was Toby Keith scamming me? I'm not a fan of his brand of chickenhawk-rock-inlaw country music, but I am a fan of the American Soldier burger at his restaurant—Toby Keith's I Love This Bar and Grill—at the Hard Rock Hotel and Casino in Tulsa, Oklahoma. The meal is well worth its price: free for me, but not for thee. It says so right there on the menu: "AMERICAN SOLDIER: CHEESEBURGER W/FRIES AND DRINK. On the house for the soldier w/ID (One time only)."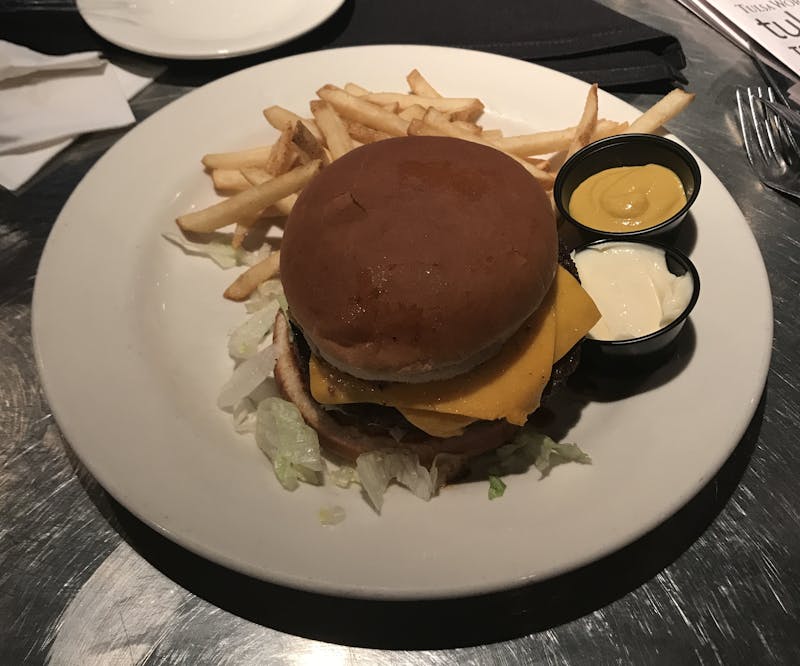 The first time I ate one of these cheeseburgers, a waiter took my veteran ID card to enter my number into their computer. I like to think it goes into some secure Toby Keith database that keeps track, Santa-style, of which American soldiers are still due their medium-well Red White and Blue and which soldiers have freeloaded enough. I take the "one time only" notation on the menu as a personal challenge; now, every time I pass through Tulsa, I make a special effort to exit at the Hard Rock. I park and walk in through the casino, making my way past rows of shiny celebrity-branded dopamine-stimulating money boxes chirping below framed rock paraphernalia. The casino is disorienting, particularly after a long stretch of Oklahoma highway, and I always feel vaguely lost until I see the escalator marked by Cheap Trick lyrics spelled out in bold. I want you to want me. Then I know I am close.

This past Sunday afternoon, the day before Veteran's Day, a waiter in training took my order at the bar, borrowed my ID, and typed in my number. I watched closely as he did this, in anticipation; part of me hoped this would be the time they finally figured it out. What would they do? Present me a bill for every unauthorized free soldier-burger? This would be my sixth ill-gotten ration. If I got away with it this time, I would have eaten half a squad's worth. I didn't want to break the streak. To kill time, the only thing I've felt comfortable killing since 2007, I again studied the decor as I waited for my burger. Framed certificates, flags, coins and patches that Toby Keith has collected since September 11, 2001, line the walls. "Military items in the cases were donated to Mr. Keith by all branches of the Military while performing on USO tours," a note reads. "He wanted to share all of these memories with his fans. Enjoy."
I've tried to enjoy them to the utmost. This past September, on my way to visit friends in Dulce, New Mexico, I'd been scolded by a waitress here while climbing up a wall partition to take a photograph of a frame, hanging about 10 feet from the floor, that particularly interested me: a 2009 certificate of appreciation to Keith from Lt. Col. Clint Baker, commander of the 1st Battalion of the 501st Parachute Infantry Regiment. I'd written a book about one of Baker's soldiers, Bowe Bergdahl, who'd deserted from the unit in Afghanistan two months after Toby Keith's USO tour stopped at Bergdahl's forward operating base in Sharana, Afghanistan.
The waitress didn't care about the source of my nostalgia, only that I could break my dumbass neck on her shift, so I dutifully climbed down from the wall and returned to my table to eat my free soldier-burger. That same waitress paid me no mind this time, and I needn't have worried: Soon enough I was eating my seventh American Soldier burger, and my thoughts shifted to all the promise and problems the next day—Veterans Day—held for me.
Despite the mattress sales and free meals, this is not a good day for me or my family, but more of an annual flooding of the basement in my brain. It is, apparently, a good day for the ghosts, who linger just a little longer past Halloween in each of the 13 Veterans Days I've had since the war. In 2009, while still on active duty and on a four-day pass to find some post-Army work, I woke up from a bender on the morning of the 12th in the cab of a cement mixer parked in front of the Penthouse Club in New York City. My shirt was ripped open and I had a meeting with a big magazine editor in an hour; in a daze, I bought an I Love NY sweatshirt and breath mints and fumbled my way to the Hearst building. Three of my close friends from the war died earlier that year. More ghosts joined them the next year, when my brother and his Black Hawk helicopter crew died in a training accident in Germany. It's continued like that—the ghost factory didn't slow down its production when I got out of the Army, and each year, new ones arrive. I know when they're there by the feelings they bring: a dreadful sense of ever-present absence; shame at my survival; sadness; a dollop of fear.
So I took it as a good sign that last week I was merely breaking down and sobbing twice in the psychiatric offices at the veteran's hospital during a routine checkup. I've been a patient there off and on ever since I got out of the Army in 2010. They'd torn up the parking lot near the mental health building to install a new psych ward—I'll always remain a fan of Ward 1A classic—so after my latest go-around, to get to my car I took a VA shuttle driven by another former infantry dude who'd also fought in Paktika, two years after me. On the shuttle ride, I looked over the list of discounts and freebies the VA sent me for Veterans Day. I tried to figure out where I would go, what I would eat, how I could turn the tables and try to consume this holiday that was consuming me, year after year.
Applebee's offered a classic bacon cheeseburger, chicken tenders platter, fiesta lime chicken, an oriental chicken salad, a six-ounce USDA select top sirloin, double crunch shrimp, and three-cheese chicken penne. I was tempted to drive to Fort Smith, where Brockton Brewery was offering commemorative "Thank You For Your Service" pint glasses. Chipotle, the "fast, casual and out of control" burrito joint where Elon Musk's younger brother Kimbal served six grueling years on the board of directors, was only offering a BOGO deal. Hard fucking pass, buddy.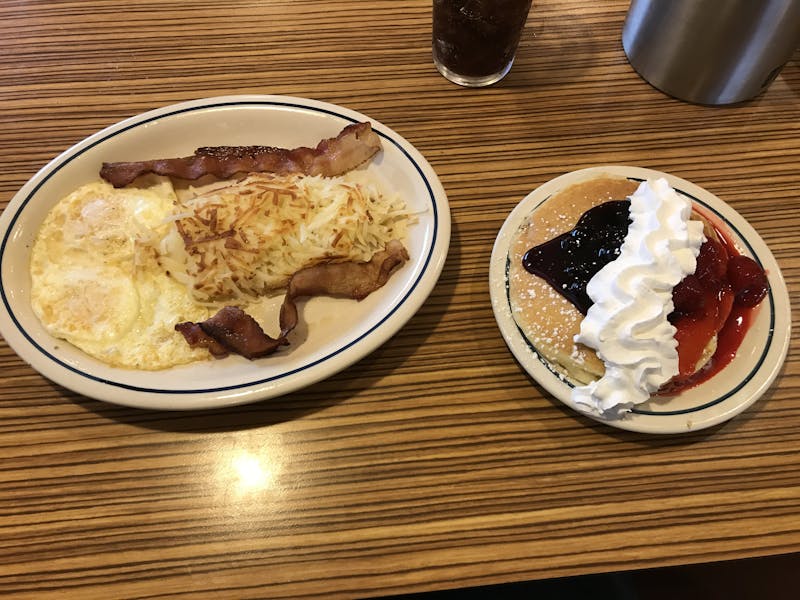 IHOP seemed like the logical place to start. My fiancée and I arrived a little after 9 a.m. The hostess seated us in the booth next to the "Missing Man Table." I knew what I was ordering—whatever was free for veterans—so as my fiancée perused the menu, pleased that IHOP now offered gluten-free pancakes, I stared at the ceremonial table, a muted and somber ubiquitous at military balls and dinings-in: four empty plates and settings.
It felt like an antidote to the poison of mawkish martial self-regard that permeates much of the holiday, and which is what the military does best, besides killing.
The meal was simple and good: red, white and blue pancakes, bacon, eggs; the waitress said they'd been slammed all morning. I paid the tab, left a tip, and thanked her for her excellent service.

While digesting, I signed in at the nearby Sports Clips for a free "help a hero" haircut and was told there was a 43-minute wait. Did they need to see my ID? No, the lady said, I believe you—besides, why would anyone lie about that? After about only 20 minutes, a woman I'll call Delilah invited me back for my haircut. I made sure it was, indeed, free. It was. Delilah likes giving these haircuts, so much so that she volunteered to come in on her day off to give them. "I still get paid," she assured me. "Thank you for your service."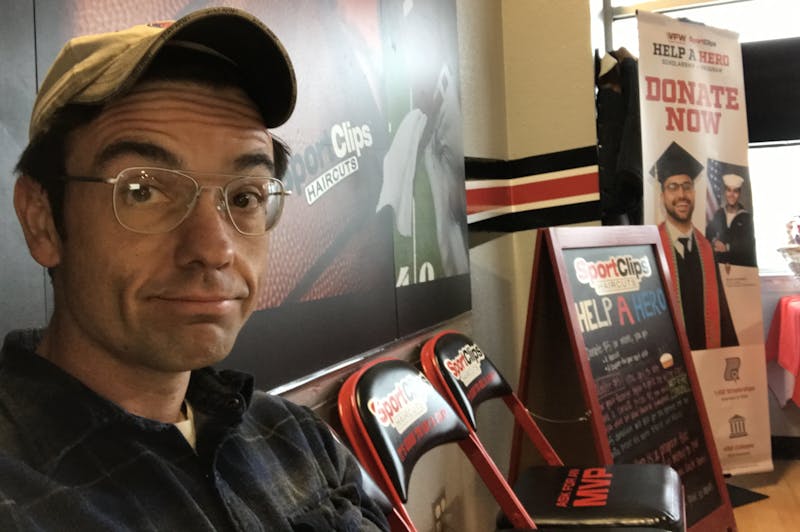 This is always an uncomfortable moment. I told her what I thought of my service. I couldn't see what made the experience so damn laudatory. Looking at it straight, I see this: In my early twenties, as a government-trained killer infantryman, I spent 16 months tooling around the boonies of eastern Afghanistan in Humvees and on foot. The goal, hazy as it was, seemed focused on propping up an unpopular and corrupt Afghan government whose most powerful figures were heroin-trafficking pedophiles.

This was an opinion that turned out to be simpatico with Delilah. She'd been raised by hippie parents. Her older brother had enlisted in the infantry in the late 1980s, where he spent most of his enlistment in Germany, drinking enough to give himself an ulcer, before he was stop-lossed to deploy to the desert in the first Gulf War. He was different when he came back. They weren't as good about diagnosing PTS in those days, she said, and he soon had a felony conviction and four failed marriages. She wondered how things might have been prevented. She had PTS, too, courtesy of a physically abusive relationship with a man in Wichita, Kansas, that she'd escaped from a couple of years ago, but not before she'd had both wrists broken. Trauma from violence, of course, isn't confined to soldiers or veterans—plenty of people experience it daily, in their homes. "How does that look?" she asked, passing me my glasses so I could see my hair and face again. The haircut looked nice. I thanked her.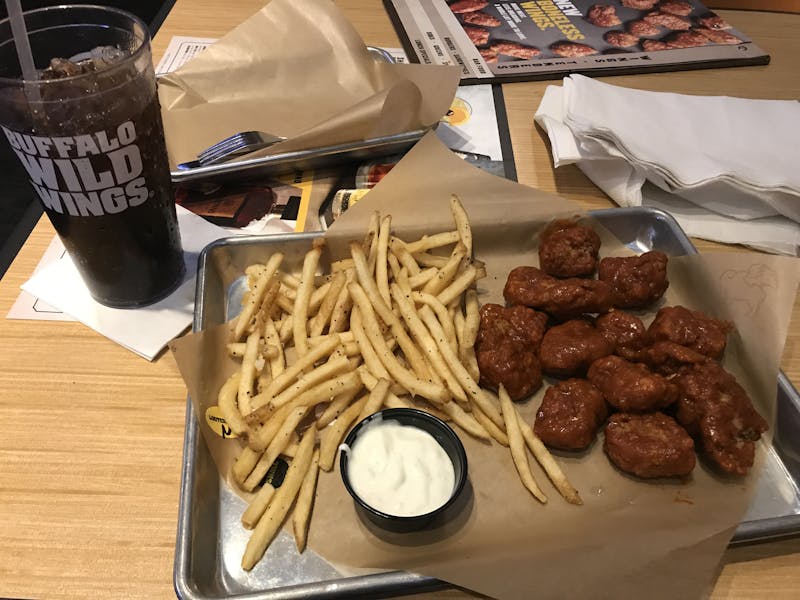 If you're lucky enough to have fought in Afghanistan as a young man, then wherever you go for the rest of your life, it stays with you, and November 11 is a discounted feast. I had a whole gastronomic itinerary planned for the afternoon, but as military plans often do, it went to shit because of the weather. By the time I'd ordered Buffalo Wild Wings' free "Nashville hot" boneless wings, freezing rain was causing problems on the highway. The schools were closing early, weatherpeople on the TV were urging caution on the drive home from work, and I came close to slipping a couple of times in parking lots.
Besides, the whole plot device was causing open revolt in my stomach. Even my ghosts, it seemed, had had their fill for another year.

I was glad when I arrived at Logan's Roadhouse and saw from the sign on the door that they wouldn't start serving complimentary veterans' meals for another hour, because by that time I knew just where I needed to be: at home and present with the woman I love, who loves me. The best kindnesses, I'm slowly learning, are the ones that are free every day, and don't require a veteran ID.