By the time of the Stonewall uprisings, Sylvia Rivera already considered herself a revolutionary, a radical, and an activist—concerned not merely with the fight for queer liberation but also the fights against racism, poverty, and war. It was June 1969, when New York City police raided the packed Christopher Street bar in what was an all-too-common attempt to disrupt LGBTQ nightlife in Greenwich Village. This time, however, members of the queer community fought back. The two ensuing nights of protests have come to symbolize a sort of beginning for the gay rights movement in the United States, but for Rivera—and others involved in the uprising—the riots were not an isolated event, but a part of a larger struggle. For Rivera and her comrades, the fight for queer liberation did not begin at Stonewall; it was a single moment in a massive movement that touched all parts of the population. "All of us were working for so many movements at that time," Rivera later said. "Everyone was involved with the women's movement, the peace movement, the civil rights movement. We were all radicals. I believe that's what brought it around. You get tired of being just pushed around."
Late last month, the city announced it will erect statues to Rivera and another legendary queer activist, Marsha P. Johnson, in a public square not far from the Stonewall Inn. This will make them, according to the Mayor's Office, the "first trans women to be immortalized as statues in the U.S." The announcement came as New York began a month-long celebration of the fiftieth anniversary of the Stonewall uprising, and follows years of demands for more monuments honoring women, queer people, and people of color in New York. It also answers a particular dissatisfaction with the statues currently across the street from the Stonewall Inn—George Segal sculptures that do not depict any people or events specific to 1969, and which are painted entirely white.
New York City's long-overdue decision to honor Johnson and Rivera reflects a dawning awareness (among those in positions of power) that the LGBTQ movement was always more diverse, more radical, and more closely connected with other social movements than is commonly believed. Yet by failing to remember the movement—in all its diversity and sweeping ambition—in the years following Stonewall, many have been able to ignore the needs of large swaths of the LGBTQ community, and to circumscribe the movement's ambition in the present.
As part of this radical—and radically ambitious—activism that existed 50 years ago, Rivera and Johnson participated in the Gay Liberation Front and co-founded Street Transvestite Action Revolutionaries (STAR), a collective that fought for the rights of queer homeless youth and sex workers. They were both allied with the Black Panthers and the Young Lords. "I was a radical, a revolutionist," Rivera later stated in an interview. "I am still a revolutionist." Through STAR, Rivera and Johnson fought to secure housing for "their kids," but they were increasingly fighting against mainstream gay rights organizations, which—by the early 1970s—were refusing to prioritize trans people's rights and were excluding trans and gender-nonconforming activists from prominent roles.
This exclusion deeply wounded Johnson and Rivera, and it killed STAR within just a couple of years. It has also shaped the way Stonewall, and the entire narrative of queer history, have been remembered ever since. Mainstream gay rights organizations often depict the movement for queer liberation as dominated by white, cisgender men, and Stonewall as an anomalous, sudden explosion of inexplicable queer rage. This rendering of history is wrong. This rendering of history writes out the movement's scope and sweep, and the contributions of people like Johnson and Rivera.
This is, however, beginning to change. In recent years, more and more scholars and activists have recognized the importance of figures such as Johnson and Rivera, as well as other queer activists, including Donna Personna, Felicia Elizondo, Stormé DeLaverie, and Miss Major Griffin-Gracy. It is this radical re-remembering of history that led New York City to finally start to celebrate some of these leaders in public.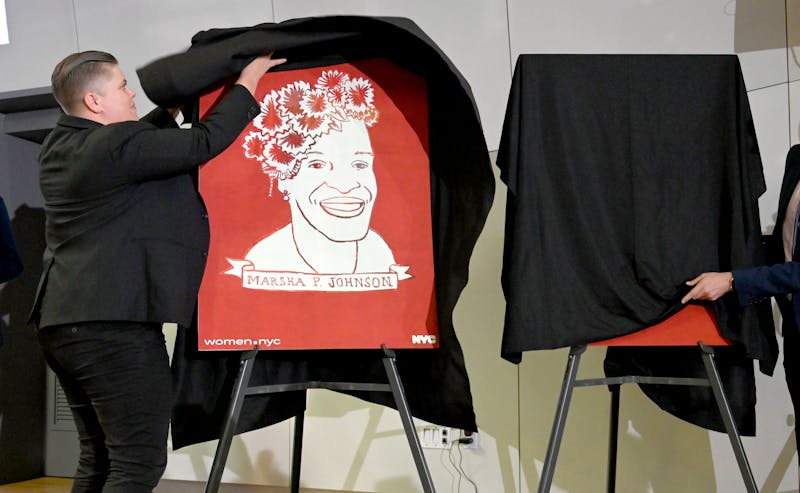 The announcement that the city will spend an estimated $750,000 to construct statues of radical trans women of color is part of the national reckoning with the way we remember the past. The rise of the Black Lives Matter movement and the recent uptick in white supremacist violence have led dozens of communities to debate what to do with the hundreds (perhaps more than a thousand) Confederate monuments across the country. Dozens have already been toppled or removed in the last couple of years. At the same time, activists have demanded monuments honoring a more diverse array of people. The decision to commemorate Johnson and Rivera in New York should be understood as part of our collective reckoning with who we remember, how we remember them, and why that matters. But the monuments would never have come without years of local organizing and activism, or without this broader, loud, and contentious national conversation.
Why do these statues matter, and why are the debates over them so fraught? The answers to these questions are complex, but one of the most important reasons is that the way we remember the past informs policy and priorities in the present. If we understand history as an inevitable march on the path toward progress, then demands for radical action seem misplaced. But if we understand the past as continuous struggle, then modern activism has a genealogy, and modern organizers have a responsibility to address unfulfilled promises. If we remember the gay rights movement as entirely male, or the women's liberation movement as entirely white—if we whitewash the past—then it becomes less imperative for those in the present to ensure our movements are equitable and designed to represent those most needing representation. If, on the other hand, we remember past movements as they actually were—as diverse and interconnected, as radical and often led by the most marginalized members of communities—then it becomes vital to again center the needs of those for whom Johnson and Rivera fought. If schoolchildren, commuters, and tourists see trans women of color being celebrated, then perhaps they will begin to consider joining the modern fights against bigoted policy, anti-trans violence, and queer homelessness. More accurate renderings of the past inform the way we act in the future; they inform whose lives we prioritize in the present.