This spring, in the brief, bruising epoch of Roseanne Barr's resurrection and collapse as a network TV star, a vile photo emerged on the internet. It showed Barr, a red apron tied around her waist, wearing a Hitler toothbrush mustache and a dark brown wig severely parted across her forehead. Her brown uniform shirt was emblazoned with a blood-red armband and black swastika. She was holding a tray of sugar cookies cut in human shapes, each one burned to an anguished, presumably Semitic crisp.
Roseanne, which set ratings records during its debut in late March, fell apart due to a spate of racist tweets Barr directed at Obama White House adviser Valerie Jarrett. Angry Twitter commenters pointed to the photo, which it soon transpired was nearly a decade old, as longstanding evidence of her bigotry. "I can't believe Roseanne is an unhinged racist. If only there were signs," wrote one woman. The photo was turned into a meme, accompanied by the text: "WHAT, ME? RACIST?!?" Barr eventually apologized for the tweets and the show was abruptly cancelled, but not before she accused "the party of inclusion, diversity, understanding, and acceptance"—Democrats, maybe?—of "lyinch[ing] a Jew."
It turned out the image was part of a photo shoot Barr had participated in as a "Nazi domestic goddess" for a Jewish-American magazine called Heeb. Heeb, which shut down its print edition in 2010, was a satirical and, at times, inflammatory glossy magazine. Note that title, for instance, or the cover image of Sarah Silverman, posed behind a white sheet with an ultra-Orthodox-wedding-night hole in it. Barr did the shoot in 2009, a time that might loosely be considered the pre-problematic era in humor. Yet even in that still-rude age, the joke, for those who were in on it, was considered a bit too "edgy."
The photo shoot was, as now, widely seen as anti-Semitic, despite featuring a Jew and being published by Jews in a Jewish magazine that was largely read by and definitely marketed to Jews. The uproar at the time was of such volume that Heeb publisher Joshua Neuman published an explanation of just what he was thinking. The idea of Heeb, he wrote, was to "interrogate" stereotypes and ideas about contemporary Judaism and identity. Barr and her "Jew cookies" (article title: "That Oven Feelin'"), then, were a way to broach the "the taboo against joking about the Holocaust and the Nazis," and to test what could or could not be said by Jews about the Shoah. "Jews have been joking about the Holocaust since the Holocaust (I believe it was the Warsaw Ghetto where the Jewish inhabitants referred to Hitler regularly as 'Horowitz')," Neuman wrote. "But these jokes have largely been uttered in private or underground. In recent years, they have been finding themselves in the most public of conversations."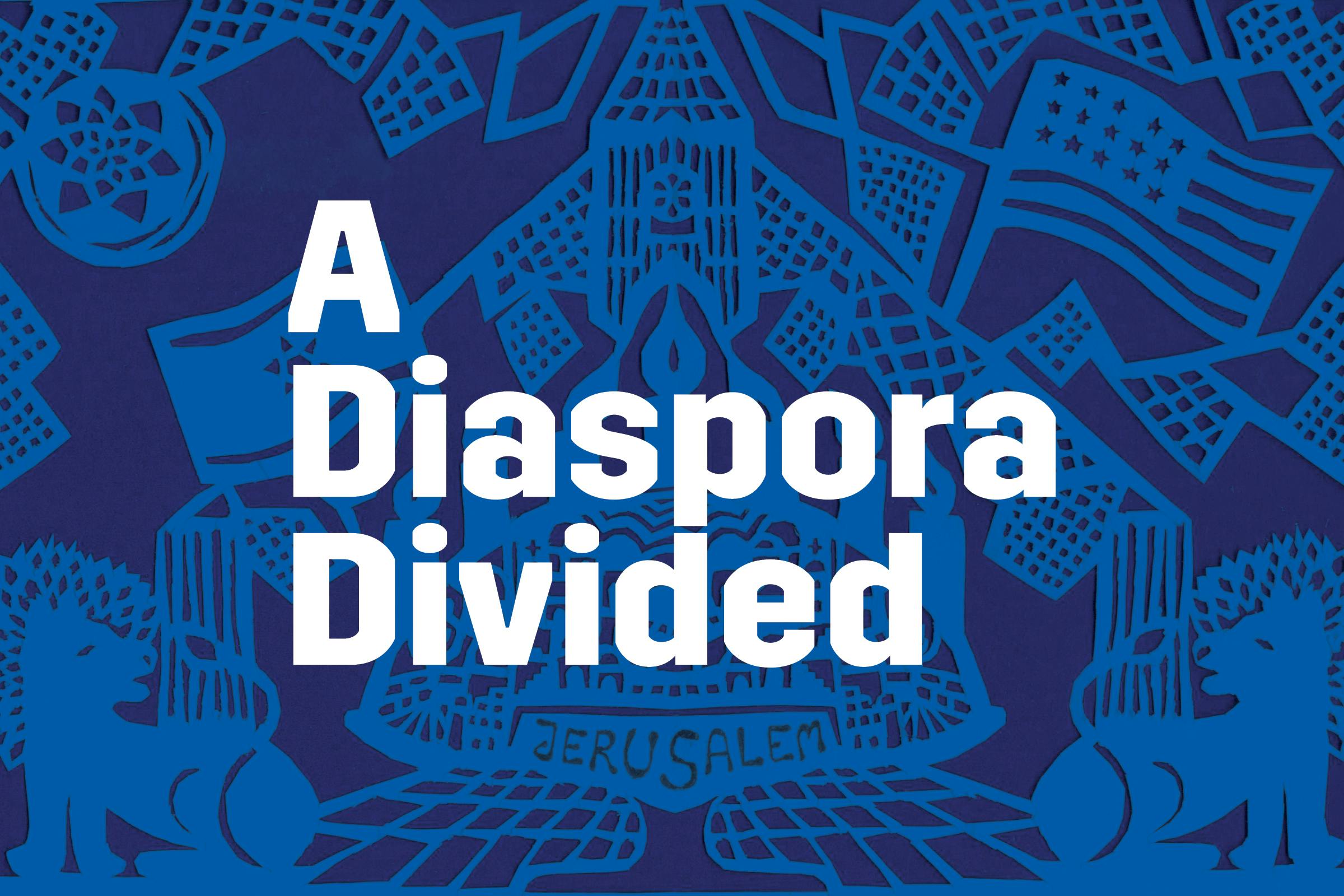 The lesson of this episode, which is really about the tolerable limits of criticism within and beyond Jewish communities, has only grown more relevant. It is starkly reflected in the young, mostly female, activist Jews from a group called IfNotNow who recently walked off a Birthright tour in Israel. Birthright, for those unfamiliar with it, offers a free, "life-changing" journey to Israel for Jews from the ages of 18 to 26, with the purpose of "transforming the Jewish future." In a book on Judaism I wrote, I described it as a "hard-sweat timeshare tour of the Promised Land," designed to strengthen ties to Israel, or, and this is probably more important, to convince the participants someday to make Jewish babies. Founded in 1999 by Jewish philanthropists Charles Bronfman and Michael Steinhardt, today Birthright's largest funder is the controversial GOP mega-donor and Zionist Sheldon Adelson.
One protester, 25-year-old Katie Fenster, a secular Jew from South Dakota, had livestreamed the protest on Facebook, making international news. (There have been two other walkouts since then, by a different group of IfNotNow activists and other protesters.) New York magazine published a long feature on the protest, which included protesters holding up a sign that read "END THE OCCUPATION" during a camel ride in the desert, and pointed questioning of their hosts about Israel's treatment of Palestinians.
IfNotNow is far from the only Jewish activist group that is publicly critical of Israel. There are the Jews for Palestinian Right of Return, Jewish Voice for Peace, and T'ruah: The Rabbinic Call for Human Rights, among others. The Boycott, Divestment, Sanctions movement, which seeks to isolate Israel financially and culturally, includes many Jews in its ranks and as supporters. But this particular protest captured a broader moment in the public imagination, one in which popular liberal sentiment had seemingly moved permanently against Israel. In addition to the Birthright walkouts, there were high-profile moments like the release of the Black Lives Matter platform, which included opposition to Zionism, and the barring of a group of Jewish marchers carrying a Star of David flag from a pride parade in Chicago. Jews, in Israel and the Diaspora, have always expressed criticism, reservations, ambivalence, and at times hostility to the country, but largely, as Neuman put it, in private or underground. Now, it seemed that Jews were not just bringing those critiques into the public eye, but were expected, or perhaps even obligated, to do so.
Did Fenster and the other Birthright protesters think about these issues—public and private criticism, the distinctions between in-group and out-group censure—before staging their walkout? She told me that they had. Birthright, despite its claims of being "apolitical," was in her view an exercise in Zionist propaganda—one of Fenster's tour guides told her "no matter what, man or woman, make sure you marry a Jew"—that had to be countered. Besides, with some 650,000 Jews having availed themselves of Birthright's largesse, and accepted its pro-Zionist slant, it "was already public."
Fenster told me she had decided to go on Birthright as a way to connect with her Jewish identity, particularly its ethical responsibilities and modern-day contradictions. Her desire, as a Jew trying to grasp the concept of tikkun olam, or "repairing the world," and to "reconcile the violence I see on the news in Gaza and elsewhere," seems to me, if not uniquely Jewish, then definitely so. It is also very brave—it's no small thing for an American Jew to criticize Israel in Israel, on a trip that is the standard-bearer experience for many American Jews interested in their religion and ethnic identity.
The tour, and its operators, she said, were unwilling to engage with her and her fellow activists about the dilemma of occupation and exile, deeply Jewish subjects. "It's important for our Judaism to stand up and say the occupation is not representative of Judaism or Jewish values," she said. "It was the most Jewish thing I've ever done."
Who is entitled to levy criticism about a people is both a contemporary and ages-old preoccupation. This is the reason some Jews recoil from IfNotNow or from Heeb. A joke or a protest, among Jews, could be a validation of murderous beliefs when heard or seen by anti-Semites. But every group must speak of itself with honesty, always, and anger, when merited, without fear of hatred from outsiders already biased against them.
Does that mean no more jokes about the Holocaust—or more jokes about the Holocaust? (I vote for the latter.) Neuman, for his part, told me that IfNotNow's protests were perhaps not so different from Heeb's earlier provocations. "We're coming at this thing from a different place tonally," he said. "But what is humor worth anymore? Where did the jokes get us? Today, we might be doing what they're doing."