The churning waters of the Mediterranean hide many bodies. As the Middle East and Africa have exploded in chaos, racked by war, famine, and ethnic conflict, the middle passage between Libya and Italy has become a graveyard for migrants who attempt the perilous crossing into Europe. Last year alone—the deadliest on record—4,579 refugees died on the journey, the victims of unscrupulous smugglers who dispatch them into the turbulent seas on decrepit boats with no navigational instruments, food, or water.

Many images of the migrant crisis, by necessity, depict only the end of the voyage: weary refugees being detained in Italy after their arrest at sea. Mathieu Willcocks, a photographer based in Scotland, set out to capture the reality of the crossing itself. Last year Willcocks spent almost six months aboard the Topaz Responder, a rescue vessel that patrolled the choppy waters off the Libyan coastline. Each morning, its crew would rise at 4 a.m. to gaze at the ship's pinging red radar in the darkness, searching for signs of a boat in distress. Some days the Responder would complete half a dozen rescue missions, hauling more than a thousand refugees out of the water, before sailing the 30 hours back to Sicily. Other days were harder. "We would get there too late," Willcocks says, "and could only call a time of death and put bodies in the morgue."
Nationalist politicians on the rise in both Europe and America cast these refugees as the cause of every problem facing the West, from unemployment to terror. Their tales of heartache and suffering are dismissed as nothing but a ruse; their real aim, we are told, is to infiltrate and destroy Western society. They are, in the words of Donald Trump, "the great Trojan horse of our time."
But Willcocks's photos force us to confront the human toll of the refugee crisis. An inflatable boat collapses slowly into the Mediterranean's dark waters, its occupants grasping at life jackets. A corpse stiffens on the salt-washed deck of a battered fishing trawler. A woman rejoices aboard the Responder, rescued from a harrowing nighttime crossing. A Bangladeshi man, wrapped in a thermal blanket at dawn, hours before Mount Etna would rise in the distance. "People would sing and dance as it came into view," Willcocks says. "For some, it had been three or four years since they had left home. Their joy was palpable. Their journey to Europe was over. They'd made it, and nothing that came next would stand in the way of their dream of a better life."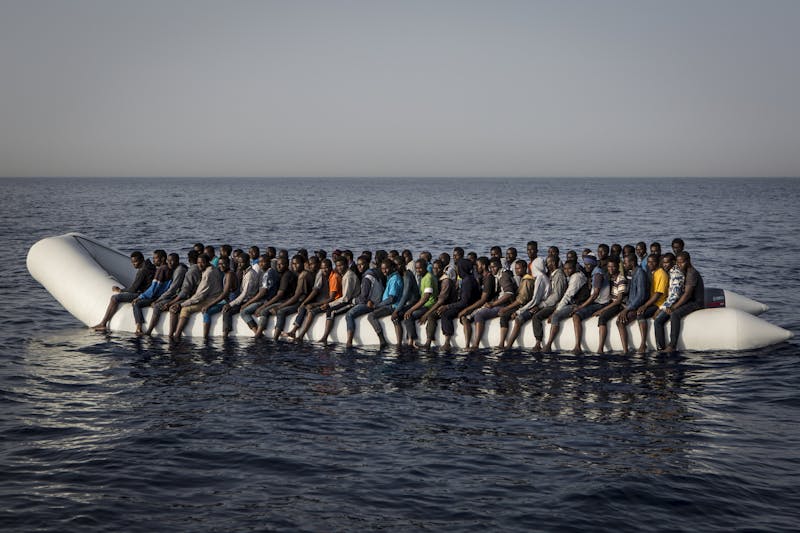 Migrants lined up on board a rubber dinghy. It takes three days to cross from Libya into Italy, a dangerous voyage that a record 181,000 people undertook last year, fleeing poverty, war, and rising unrest in Africa and the Middle East.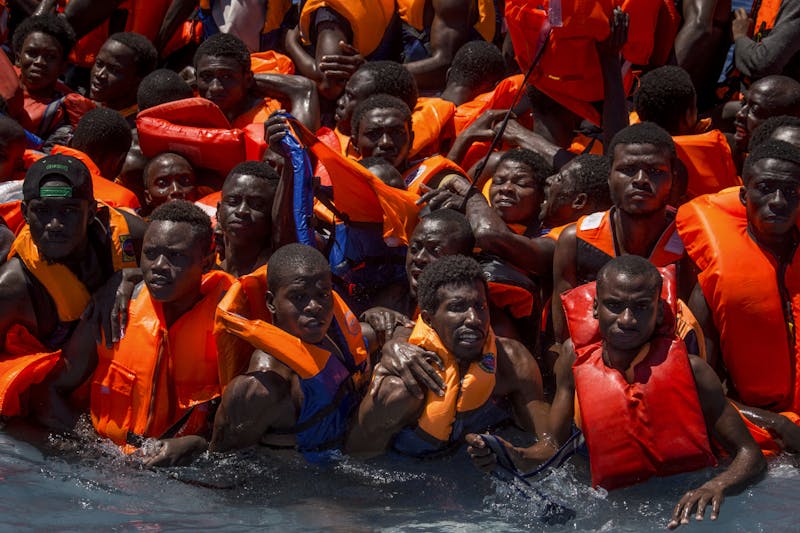 When the Responder found this boat collapsing into the ocean, there wasn't a single life vest on board. Smugglers often cram passengers into unseaworthy vessels—without food, fuel, life jackets, or navigational tools.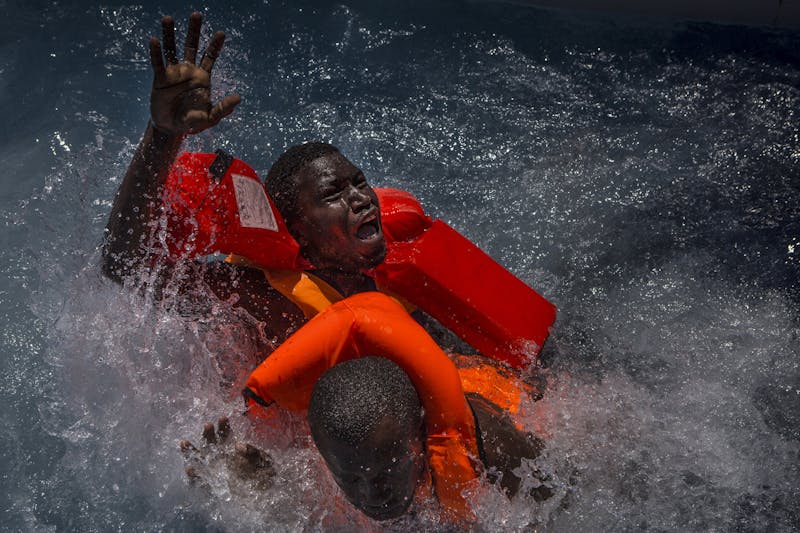 Two men panic and struggle as their rubber boat deflates into the water. Since 2015, when the European Union began launching naval missions to destroy the wooden fishing boats traffickers were using to convey migrants, smugglers have increasingly turned to these cheaper inflatable vessels.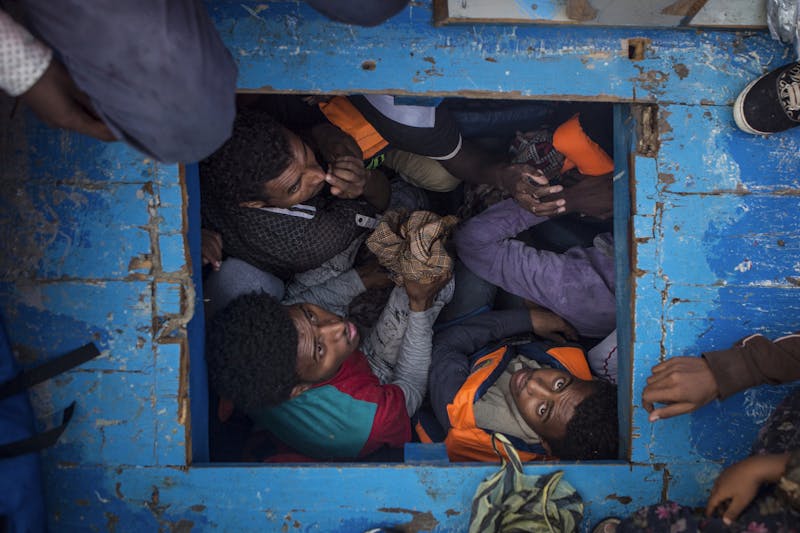 Refugees from Eritrea, stuffed in the hold of a rickety fishing boat headed for Italy. Trapped below decks, passengers often pass out or die from the engine fumes. At least two of every hundred migrants who attempt the crossing perish en route.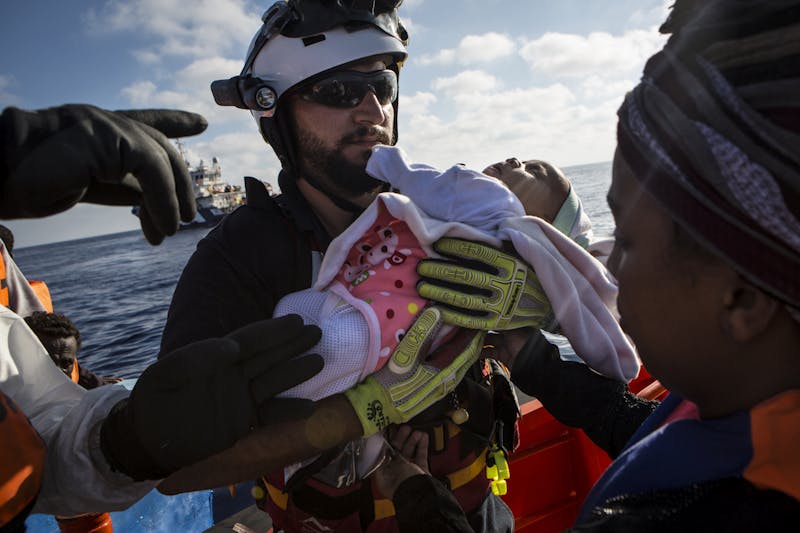 A rescue worker takes an Eritrean infant off a wooden vessel carrying the child's mother and hundreds of other refugees. Some 25,000 children tried to reach Europe in 2016—more than double the previous year. Ninety percent made the journey on their own.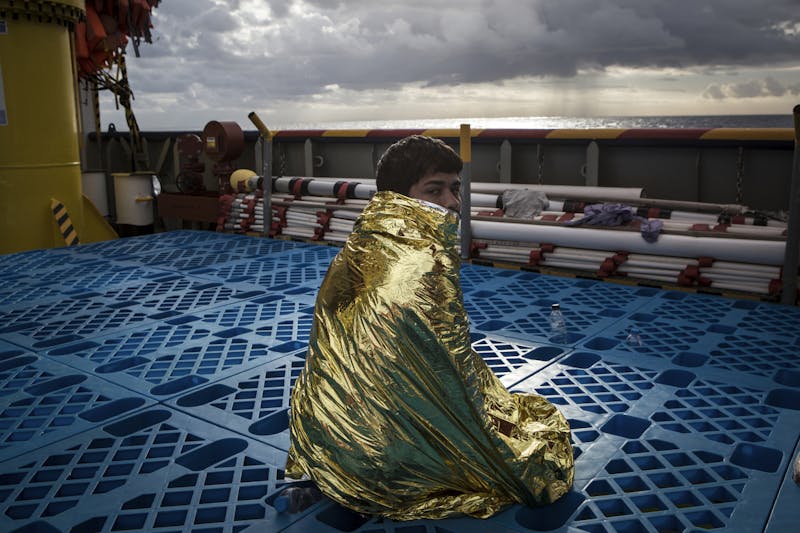 A Bangladeshi man sits on the deck of the Responder, wrapped in a thermal blanket. He and 27 other migrants were rescued from a tiny wooden boat. Smaller vessels are often better equipped than larger ones, outfitted with life jackets, food, and water.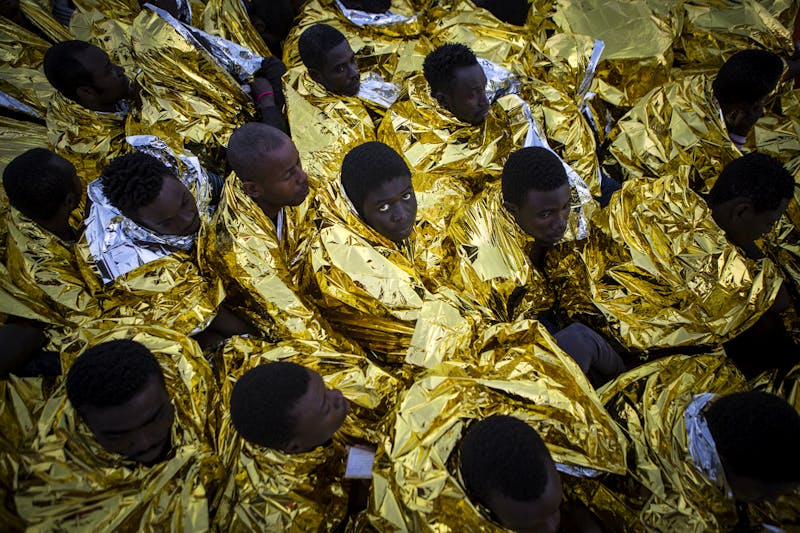 Migrants sit on the deck of the Responder, wrapped in thermal blankets as they await medical attention.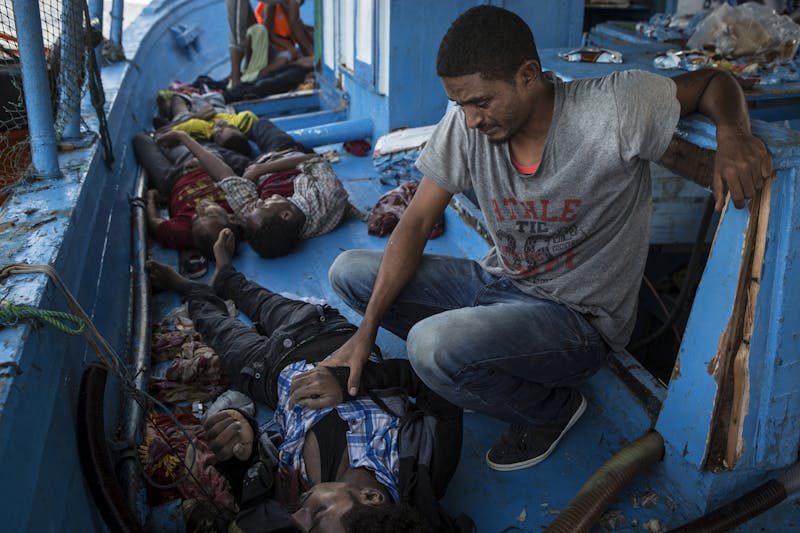 An Eritrean man grieves over the body of his brother. When the rescue team boarded their ship, four lifeless bodies were carried up from the hold. Last year, the death toll on the sea route between Libya and Italy reached 4,579—the highest on record.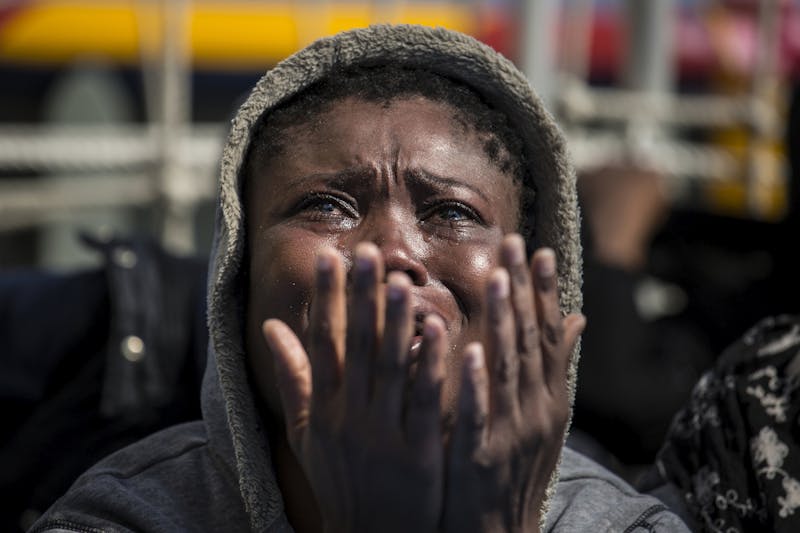 A woman prays and weeps with joy on board the rescue ship the Responder after a harrowing nighttime crossing.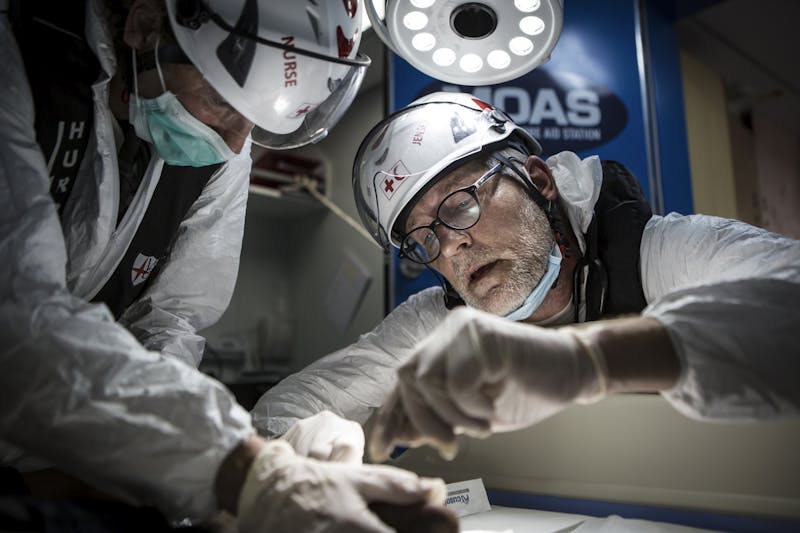 Christian Jensen, a Danish Red Cross doctor on board the Responder, stitches up a gash in a woman's foot. Rescue boats often carry medical teams to provide emergency care and conduct health checks on rescued migrants.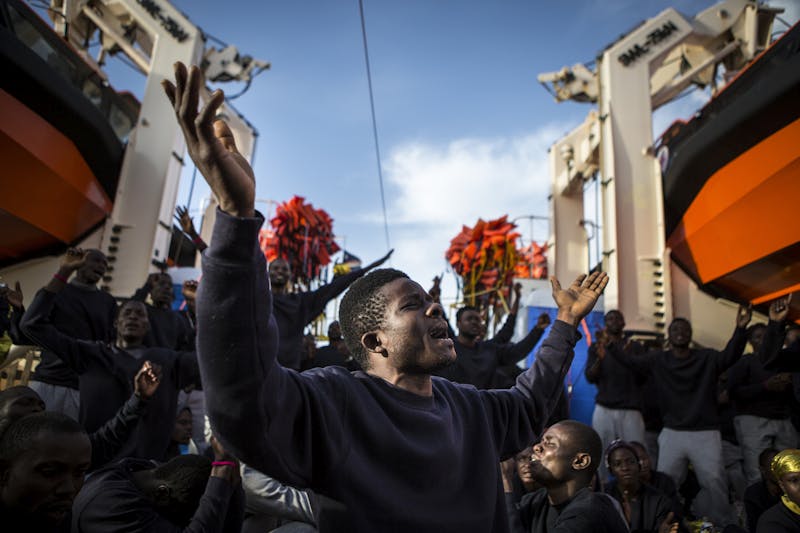 Still on the rescue vessel, migrants sing hymns and prayers as they approach Sicilian soil.