On July 19, 2015, Raymond Tensing, then a 25-year-old police officer at the University of Cincinnati, shot and killed Samuel DuBose, 43, a musician, father, and likely pot dealer. Their encounter, during a routine traffic stop in Mt. Auburn, a hilly and near-impoverished neighborhood just north of downtown Cincinnati, lasted less than two minutes and was captured on Tensing's body camera.
Two years later, Tensing's trial on charges of murder—his second trial after a mistrial was declared in November 2016—has come to an end. On Monday, the two sides delivered their closing arguments, with the prosecution claiming that Tensing had repeatedly changed his story about the incident, had been the beneficiary of a "good ole boy" network among Cincinnati police, and had shown no genuine remorse for DuBose's death. As the jurors begin deliberations, supporters of police reform are understandably pessimistic that they will return with a guilty verdict. Just last week, Jeronimo Yanez, the police officer who killed Philando Castile in 2016 during a similar traffic stop in Minnesota, was acquitted of all charges. Video evidence also played a role in that case, but unlike Castile, DuBose was unarmed at the time of his death.
There are concerns about how the city will respond if Tensing is found not guilty. Cincinnati suffered a massive urban riot in 2001, sparked by the killing of a 19-year-old unarmed black motorist named Timothy Thomas by Cincinnati police. The city's police force had been responsible for the killings of 15 black men in the previous five years, but the city had never convicted a police officer for murder. Stephen Roach, the officer who shot the fleeing Thomas in the back after a brief foot chase, was acquitted. The county that encompasses Cincinnati, Hamilton County, uses only registered voters as potential jurors, which tends to skew jury pools whiter and more affluent than the general population. Hamilton County is 26 percent black, whereas Cincinnati, within which lies the narrow parkside corridor where DuBose was shot, is 42 percent black.
In the video of the killing, DuBose fails to produce a license time and again, asking Tensing, "Why'd you stop me?" He was unaware that not having his front license plate attached is against the law in Ohio. It's an unevenly enforced law at best, but a good pretext for many a police officer to meet ticket quotas. DuBose tries to show Tensing that the plate is in the glove box, but Tensing is more interested in his identification, which DuBose can't, or refuses, to produce. Noticing a bottle near DuBose's feet, Tensing asks what it is. DuBose hands Tensing cheap perfume housed in a bottle of even cheaper gin. Tensing decides to officially detain DuBose, saying, "Go ahead and take your seatbelt off." He tries to open the car door. DuBose stops him from doing so, putting his left hand on the door and drawing it back toward him.
DuBose had been arrested on marijuana-related charges 25 times previously. He had five containers of marijuana in the car at the time. In the video he appears agitated, perhaps fearful of having his suspended license and the marijuana detected, and puts the keys back in the ignition and begins to start the car. Then something deeply tragic happens over the next five seconds or so. In the jarring and blurry footage that unfolds, we see Tensing lunge into the car, ostensibly to prevent DuBose from driving off; Tensing yelling "stop" twice; Tensing raising his gun, which enters from frame right; and Tensing firing a round that severs Samuel Dubose's brain stem. But what took place during those five seconds has been up for debate ever since.
Unbeknownst to those watching the footage, Tensing was wearing a shirt under his uniform depicting the Confederate flag. He had pulled over a higher percentage of African-Americans than any other cop on the force at that time, issuing 83.5 percent of his tickets to minority drivers. Everyone he had pulled over earlier that day was black. This is what it meant to protect and serve.
A week after the shooting, following lawsuits filed by local media outlets demanding the release of the footage, Hamilton County prosecutor Joe Deters published the video and indicted Tensing for murder as well as a lesser charge of voluntary manslaughter. A formerly scandal-ridden state treasurer who had once been labeled "pro cop at any cost" by the local alternative weekly Cincinnati Citybeat, Deters was quickly hailed as a villain by the Fraternal Order of Police for throwing cops under the bus and as a hero by the Los Angeles Times for saving the city from unrest.
Tensing's trial was originally slated for November of 2015, but it began a year later, in the days leading up to the election of Donald Trump. It was widely viewed in the local media as a dangerous flashpoint reminiscent of the city's troubled past; fear of unrest gripped Cincinnati both before the indictments were handed down and as the trial came to a conclusion. One juror was excused for fear of having their identity revealed by the media. On the third day of testimony, jurors left for a lunch break and did not return that day, allegedly due to fear of exposure.
Despite his reputation (or perhaps because of it), Deters was aggressive in his presentation of the case, calling Tensing a liar for claiming that DuBose was speeding off as Tensing's arm was trapped in the car. Tensing said he was being dragged, prompting him to shoot DuBose from two feet away for fear of his own life. "The evidence is going to show you that this tragic case, this murder, was totally unwarranted, was completely intentional, and was truly unjustified," Deters implored in his opening statement.
Tensing cried during his testimony, tears both Deters and DuBose's family claimed were fake. "We were at the Oscars just now. We were watching an actor on stand right now," DeShonda Reid, DuBose's fiancée, who had become engaged to him only two days before his death, told FOX 19 News. "Imitating tears that we've been crying over a year as a family, very passionate tears. Tears because we lost someone."
If you watch him long enough, the fear and regret in Raymond Tensing's blue eyes startle you. People pay the best Hollywood actors millions of dollars to be able to fake that kind of expressive pain. He's a tall, open-faced, handsome man, a cross between a young Tim Robbins and a younger Jeremy Renner, and when he weeps with sorrow as he tries to describe what led to him ending Samuel DuBose's life, it is easy to imagine how someone might feel bad for him.
In the end, the jury couldn't reach a verdict; only two jurors were unwilling to convict Tensing for voluntary manslaughter, while four of the twelve refused to convict for murder.
After the trial, examination of the pre-trial jury questionnaires led the Cincinnati Enquirer to speculate that several jurors on the panel exhibited opinions that could be construed as racially biased. Five of the jurors agreed or strongly agreed that "some races and/or ethnic groups tend to be more violent than others." Of the twelve jurors on the panel, ten were white. An official from the Hamilton County sherriff's office later revealed that at least one juror vehemently objected to the release of pre-trial jury questionnaires.
"I don't understand how they were able to sit on the jury and why they weren't removed for cause," Donyetta Bailey, president of the Black Lawyers Association of Cincinnati, told the Cincinnati Enquirer. "To me, it's an automatic challenge for cause. It shows racial prejudice."
Local activists demanded a retrial and Deters promised his office would press forward with the case again. A new trial was set for May 25. The prosecution wanted the trial moved out of Hamilton County, fearing that it would be difficult to seat an impartial jury there; the defense wanted it to remain in southwestern Ohio. Judge Leslie Ghiz, a tough-talking 47-year-old former Cincinnati city councilwoman, took over as judge for the second trial. She sided with the defense; the retrial would remain in Hamilton County.
Ghiz was once an operative for George W. Bush's 2004 re-election effort, one that was alleged to have suppressed the black vote in this portion of Ohio. She is one of the stars of the fascinating 2006 political documentary ...So Goes The Nation, which explores the contest between John Kerry and Bush in Ohio at the local organizer level. She emerged furious from chambers on day one of a pre-trial press hearing. There was a conflict over whether local and national news outlets would sign an unusual edict she had handed down.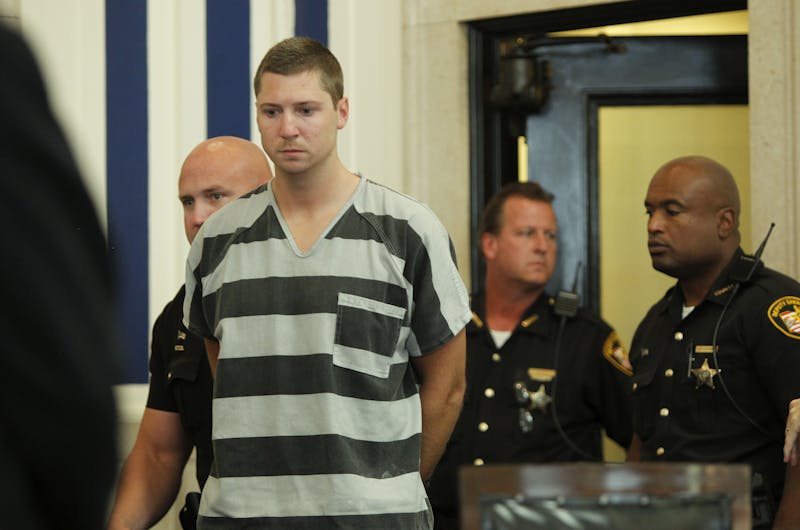 Citing the jurors' concerns during the last trial, Ghiz didn't want the media prying into their identities. She told us that, because of media scrutiny, it would be hard to keep the trial in Hamilton County, where you'd have to have lived under a rock to not have an opinion about what happened to Samuel DuBose. She would restrict access to the jury selection process, and allow only three journalists, selected via lottery, only one pool news camera, and one still photographer in the courtroom each day when testimony began. Journalists would have to surrender their phones and other electronic devices capable of taking photos.
"This is unconstitutional!" shouted Monica Dias, an attorney representing local news channel WCPO.
"Hush," Ghiz replied. This was going to be tough sledding for the fifth estate.
"If jurors' identifies are kept secret, that's a big chunk of the case that's walled off from the public and the public cannot determine if justice has been administered fairly," Dias later told two reporters from WCPO. Jury voir dire was then suspended when Ghiz's earlier order restricting media access was vacated by Ohio's First District Court of Appeals. Another hearing was held. And then jury selection began, with somewhat fewer media restrictions than before. We would be allowed to bring our recording devices into the courtroom, but taking photos of jurors was strictly off limits. The pool camera, positioned right next to the jury box, would never show them during the trial, which would be streamed on the websites of all the major local news outlets.
The jury would not be allowed to know about Tensing's Great Smoky Mountains Confederate flag T-shirt. Tensing had testified in the first trial that the shirt held no meaning for him, and Ghiz found the shirt "far too prejudicial" to enter as evidence. She barred mention of DuBose's copious marijuana-related arrests as well.

In her opening statement, assistant prosecutor Stacey DeGraffenreid, an African-American woman who, along with assistant prosecutor Seth Tieger, had replaced Deters for the second trial, said that Tensing had purposefully killed DuBose, and in the process had committed a crime against the "peace and dignity of the State of Ohio." But she did so in an impassive way, much different than the fiery anger that had fueled Deters's remarks, which may have been less effective than he had hoped. "The evidence will show this is clearly a murder," DeGraffenreid said with clinical restraint, to the jury of nine whites and three blacks, nine of whom are women.
Defense lawyer Stew Mathews, tall, folksy, and with a full head of silver-white hair, attempted to humanize Tensing in his opening statement. After acknowledging that Tensing's use of the term "dragged" may not have been the best choice of words, he claimed that Tensing had indeed become trapped by the car and legitimately feared for his life. He pointed out that Tensing had wanted to be a cop since he was a boy, and had been nice to all the other black people he had stopped that day. It was DuBose, in his lack of cooperation, who had threatened Tensing's life. "They want to portray him as a racist. He wasn't a racist. He wasn't a hard-head, no-nonsense cop," Mathews said, as his client sat sullen-faced. "He was an extremely human kind of guy."
The prosecution called on the testimony of video analyst Grant Fredericks, who narrated the video frame by frame for the jury. Fredericks showed that, without a shadow of a doubt, Tensing had not been dragged by DuBose's car. Alicia Napier, a young mother who witnessed the encounter firsthand, claimed that she heard the gunshot, and only then did DuBose's car start accelerating down Rice Street, before it crashed through a guard rail and came to a rest against a utility pole. This contradicted Tensing's contention that the car had already begun moving before he fired.
The police who backed up or investigated Tensing left more room for ambiguity. Officer Philip Kidd, who had reported to the scene to assist Tensing and who initially said he had seen Tensing get dragged by the car, backed off those claims, just as he had in the first trial. When grilled by Tieger as to why he had changed his story, Kidd said that he had seen Tensing "moving with the vehicle" and that he "wasn't going to sit there and argue" with Tensing about whether he had actually been dragged. Investigating homocide detective Sgt. Shannon Haine, a witness for the prosecution, poured cold water on the prosecution's case during a cross-examination from Mathews, saying, over Tieger's objection, "I thought I was looking at an officer-involved shooting where its action may be determined to be justified based on the events surrounding the actual shooting."
The defense offered its own video expert, James Scanlon, a retired Ohio cop with no training in analyzing crime scene videos, and a "forensic animator" named Scott Roder who was ultimately barred from presenting an animated simulation of the events that had been prepared by his firm. As in the first trial, Mathews tried to insinuate that DuBose was a drug dealer and a deadbeat who, if not fully deserving his demise, instigated enough reasonable fear in Tensing to present just cause for his grisly killing. Although unable to mention it himself, he coaxed Dr. Karen Looman, chief deputy coroner of Hamilton County, into revealing that DuBose had $2,620, a pack of rolling papers, and two small baggies of marijuana in his pockets at the time of his death.
Mathews's cross-examination of DeShonda Reid, whose integrity he also called into question, grew explosive. After Reid questioned the relevance of the queries, Mathews posed to her concerning DuBose's means of employment, Mathews asked her if she had been convicted of "falsification and possession of criminal tools" the previous November. Reid admitted that she had, although it had been in October. She added, "Unlike your client, I know how to own up to what I've done."
Finally, on June 16, just as news spread that Yanez had been acquitted on all counts of shooting and killing Philando Castile, Tensing spoke in his own defense, on the final day of testimony in his retrial. He claimed that DuBose had "mashed the accelerator to the floor" as his left arm was pinned to the steering wheel. He said that the car had turned into him as it began accelerating, causing him to lose his balance and fall backward. "I did it to stop the threat," he said, again and again, unable to contain his tears, unable to acknowledge that by knowingly and purposefully shooting a man in the head from two feet away, he was engaged in the intentional act of killing.
As Terina Allen, DuBose's sister, was consoled by a friend, across from where members of the Tensing family sat stoic and red-faced, Tieger gave him little quarter. "After you shot him in the head, did you think he would just walk away?"
"I never thought about that," Tensing said.
Few journalists covering the case think Tensing will be convicted. The mood of pessimism is even starker among African-American civilians, especially in the wake of Yanez's acquittal. There is little reason to believe, in a country where a patrolman thinks it is acceptable to wear the flag of the Confederacy, as hateful a symbol as the swastika, in precincts populated by people whose ancestors were held in bondage under its aegis, that things would turn out any other way.