President Donald Trump's proposed budget would eliminate all federal funding for public broadcasting in America by the end of next year. That wouldn't be catastrophic for NPR or PBS, which receive just a fraction of their funds from the Corporation for Public Broadcasting. But as The Washington Post reported on Wednesday, Trump's plan would decimate local radio and television stations across America, which rely on the corporation's grants to survive and serve their vital civic purpose. (The Post notes that "stations in the states that voted for Trump received $186.1 million in 2014," out of a budget of $445 million.)
"The elimination of federal funding to CPB," Patricia Harrison, the corporation's president and CEO, warned in a statement on Thursday, "would initially devastate and ultimately destroy public media's role in early childhood education, public safety, connecting citizens to our history, and promoting civil discussions–all for Americans in both rural and urban communities."
Many conservatives in Congress surely will welcome Trump's proposal, but the true tragedy is that Trump's vice president knows precisely the value of public broadcasting in the United States. Mike Pence funded public broadcasting for eight years as governor of Indiana, and even won a Champion of Public Broadcasting Award from America's Public Television Stations (then called the Association of Public Television Stations). Here's a photo of a very happy Pence receiving the award from APTS president Pat Butler in 2014: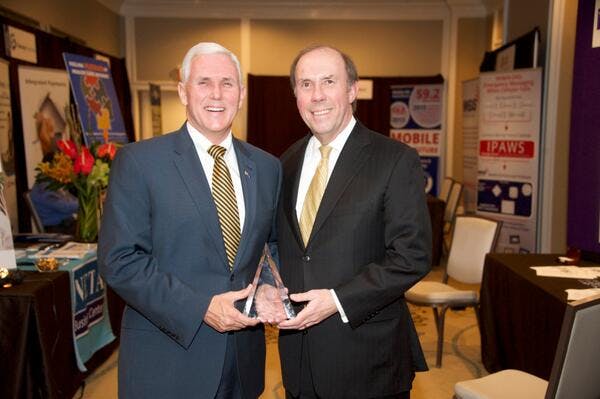 After a decade in Congress, during which he criticized public broadcasting funding, Pence won the Indiana governorship in 2012. A former radio talk show host, he came to appreciate public media's important role in early childhood education in Indiana.

"Erstwhile conservative critics," Butler noted for the trade publication Current last year, "have been especially impressed with our emphasis on public safety, including our commitment to support the FirstNet national emergency communications system and our strategic partnership for public safety datacasting with the U.S. Department of Homeland Security. In addition, a growing number of successful local pilots are demonstrating the abilities of public television stations to significantly enhance emergency communications in rural, suburban and urban America."
Pence built a good relationship with Butler, who, at the 2014 award ceremony, said Pence won the governorship "because his neighbors in the Hoosier State saw in him the same qualities of courage, principle, sincerity, intelligence, political talent and personal grace that I had been privileged to see up close." Pence called Butler "a man universally respected in our nation's capital," and then launched into an extraordinary speech extolling the values of public media—remarks that Butler would later say he could have written himself.
Pence said public stations "enrich our local communities through distinctive programs and services and through collaborations with some of our most cherished institutions," adding, "I'm proud to say the Hoosier State has now and will continue to find the resources to support public media efforts in our state...Frankly, when we were going line by line through our budget proposal, when we came to deciding whether or not to include funding for public television in our budget, I wanna tell ya, it was an easy call. I believe education is a state and local function—I believe the state has the primary responsibility for educating our children. And I will say from my heart, through all of my life one thing has been clear: public television plays a vital role in educating all of the public, but most especially our children."
The White House did not respond to a request for comment on Thursday. Reached by phone, Butler offered one plausible explanation—that Pence doesn't in fact support the move at all. "As far as I know, Mike Pence remains a champion of public broadcasting, but he is not the one who makes the final decision in this administration," Butler told me. He said he's been in touch with Pence and other administration officials in advance of their budget rollout, and ultimately doesn't blame them for the outcome. "I don't look at it that way at all," he said. "I think this is a decision the president made."
The irony, Butler added, is that the first stations to suffer from Trump's cuts would be in rural America. And he pointed to a recent national survey that showed 66 percent of Trump voters favor "increasing or maintaining federal funding for public TV." Butler thinks Trump just doesn't understand how his cuts will affect Americans: "The president, as far as we know, has never said a public word about public broadcasting."