In the summer of 1963, Japanese singer Kyu Sakamoto accomplished what no other artist from Asia had done before or has repeated since: He topped the U.S. Billboard Hot 100 chart. Sung completely in Japanese, Sakamoto's hit single, "Sukiyaki," was a crooning "Singing In The Rain"-esque ballad that charted for 14 weeks in the States and was a hot contender for song of the summer (which ended up going to a 13-year-old Stevie Wonder). The Beatles hadn't even come to America yet.
Sakamoto, then a handsome 21-year-old who was already a famed singer and actor in Japan, had somehow managed to hit upon all the right chords for a successful crossover to the U.S. However, the song's success was only possible with a significant adjustment to make it more palatable for Western audiences. The title of the track, originally "Ue o Muite Arukō" ("I Look Up As I Walk") in Japan, was changed to the more recognizable "Sukiyaki," a completely unrelated Japanese beef dish. As Newsweek put it, the decision was comparable to releasing "Moon River" in Japan as "Beef Stew."
In recent decades, with the rise of enormous Korean pop conglomerates, more Asian artists have been attempting the fabled crossover. The closest anyone has gotten is PSY, whose "Gangnam Style" took global audiences by storm in the summer of 2012. But "Gangnam Style" was unique in the K-Pop universe—subversively parodying the wealth and class that is so often prevalent in the K-Pop lifestyle—and PSY's song was more one-hit wonder than a prelude to a career in the mainstream American music scene. "Gangnam Style" fits more comfortably with other single-punch hits by foreign artists, such as Los Del Rio's "Macarena" or Nena's "99 Luftballons."
The woman that studio executives and music blogs are putting their money on today is Chaelin Lee, who is better known by her K-Pop moniker CL. She rose to fame in Korea as a member of the girl group 2NE1 (pronounced "twenty-one"), and is on the verge of dropping a solo album in the U.S, having just announced her first North American tour last Friday.
CL certainly has some of the best infrastructure in place to make it in the States. While she remains under her Korean label YG Entertainment, her U.S. manager is Scooter Braun, who was behind the rise of pop phenoms Justin Bieber and Ariana Grande. CL often collaborates with Diplo, tastemaker of dudebros everywhere. And, if you've listened to any of her songs, you know that CL is unmistakably a star—not in the old-timey Hollywood way, but in the sense that her presence is reminiscent of a massive, all-engulfing ball of fiery carbon. But, despite all this, more than half a century after strains of "Sukiyaki" floated from a jukebox, it remains to be seen if CL can endear herself to an American audience without having to Westernize herself.
The currency that CL deals in is superlatives. One of 2NE1's most popular songs is "I Am The Best," and CL's first solo venture in Korea earned her the title of "The Baddest Female." She has popularized words like gizibe, which can roughly be translated into "bad girl" or a fonder version of "bitch." One of the first songs she dropped in the U.S. was the forceful "Hello Bitches," in which CL asserts of her listeners: "And they singing every word / Like they was at the karaoke." In Korea, where women can often feel intense pressured to conform (somewhere between one-fifth and one-third of women in Seoul have undergone plastic surgery), CL has built her brand on standing out.
She is bringing this aggressive self-confidence to the States where, in her own words, she hopes to be considered a "boss ass bitch." As an Asian-American woman, this is an especially appealing pitch. Growing up, there were few celebrities who looked like us—a coworker once told me that people always compared her to Mulan, who is not even a real person, but a cartoon. For Chinese-American women in the 1960s, the model was the infamous prostitute Suzie Wong from the movie The World of Suzie Wong—Chinese women were even referred to as "Suzies." In my case, people always told me I looked like Lucy Liu, which, on the one hand, hell yeah, but on the other hand, I resemble Lucy Liu as much as I do Kevin James (to clarify: not at all).
This is to say that Asian women have never had much representation in American pop culture. As Elaine Teng has pointed out at The New Republic, more white women in yellowface have won Oscars than actual Asian actresses. And when Asian women are portrayed, it's often through a stereotype, whether it is the more outdated image of sexualized subservience (think of the women who are "saved" by white soldiers in Miss Saigon and Madame Butterfly) or as the deferential "model minority." When it comes to music, there are artists who have reached moderate success, such as Malaysian-born Yuna, whose glimmering song "Crush" reached number 39 this May on Billboard. If CL can bring her image of a brash and bombastic Asian woman to the mainstream, it could help to break through some of these stereotypes.
CL recognizes the value of this endeavor. "I'm trying to come out here to set an example of an Asian girl," she told Paper Mag last August. But even the Baddest Female can stumble. "A lot of Asian girls love being basic because it's safe," she added. In Fader she asserted, "I don't want a 'good' image. I'm not the standard Asian girl." At times, when attempting to contradict the myth of the meek Asian woman, CL actually perpetuates it.
CL will also have to be more thoughtful when it comes to appropriating black and Latino hip hop culture. K-Pop is a genre that is heavily reliant on the creative visual flare of its music videos, which, in its best forms, can range from the absurd (humans dressed as sushi) to the sublime (pop punk in the form of androgynous heart-throb G-Dragon). But often, K-Pop artists have a bad track record when it comes to utilizing hip hop tropes. In her own videos, such as the one for "Baddest Female," CL has been lambasted for donning gold grills and dressing up in a chola outfit, complete with a crew of "gangster" men dancing behind her.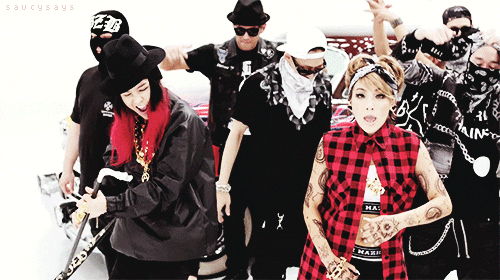 Of course, there are ways to borrow from other cultures without engaging in theft—think of RZA and Wu-Tang Clan's homage to martial arts films. And it's clear from the video for CL's debut English-language single "Lifted," released in August, that she has has taken pains to move away from that direction. The song is based off of Wu-Tang Clan's "Method Man," and the video, which is set in the Bronx, appropriately gives Method Man a (very cute!) cameo and features actual black people, rather than Korean dancers dressed in hip hop costume.
Still, she strikes a few false notes. Method says the original song "started on the block. … We would get a bunch of dudes together with three dime bags of weed and we'd all smoke it and watch a movie on VHS." In contrast, when "Lifted" shows CL singing the lyrics, "I got myself a 40 / I got myself a shorty" while paper-bagging it in the park, it's hard not to wonder if the rich and famous 25-year-old Korean singer, who surrounds herself with luxury designers like Jeremy Scott, has ever actually even drank a 40.
The CL in "Lifted" seems to have "Sukiyaki"-ed herself to an extent. The video feels like an inauthentic product guided by the influence of her new American managers, in comparison to the music CL rose to fame making in Korea (which is, to be fair, a product of her Korean managers). This hasn't escaped the notice of her fans back home, some of whom have criticized her for Americanizing herself in her new song.
"Hello Bitches" is a much more compelling track. In it, CL furiously raps in both Korean and English, seamlessly folding phrases from one language into the other ("Liftin' cards in Macau / Naega jeil jal naga") while dancing alongside the all-female ReQuest dance crew, the same group that took over Justin Bieber's "Sorry" video. Unlike "Lifted," "Hello Bitches" is able to capture some of the best elements of K-Pop, without losing a sense of global relatability.
For now, the difference might be moot, since neither song has taken off in the mainstream American market. CL faces a tall order, one she hasn't failed to recognize. "I think about this a lot: There is not a single Asian pop star who has done this," she told Fader. This is is not entirely true—decades ago a Japanese pop star had one of the biggest hits of an American summer. The question remains, though, whether CL will be able to get more than a toehold in the culture—and what she might have to give up to do it.