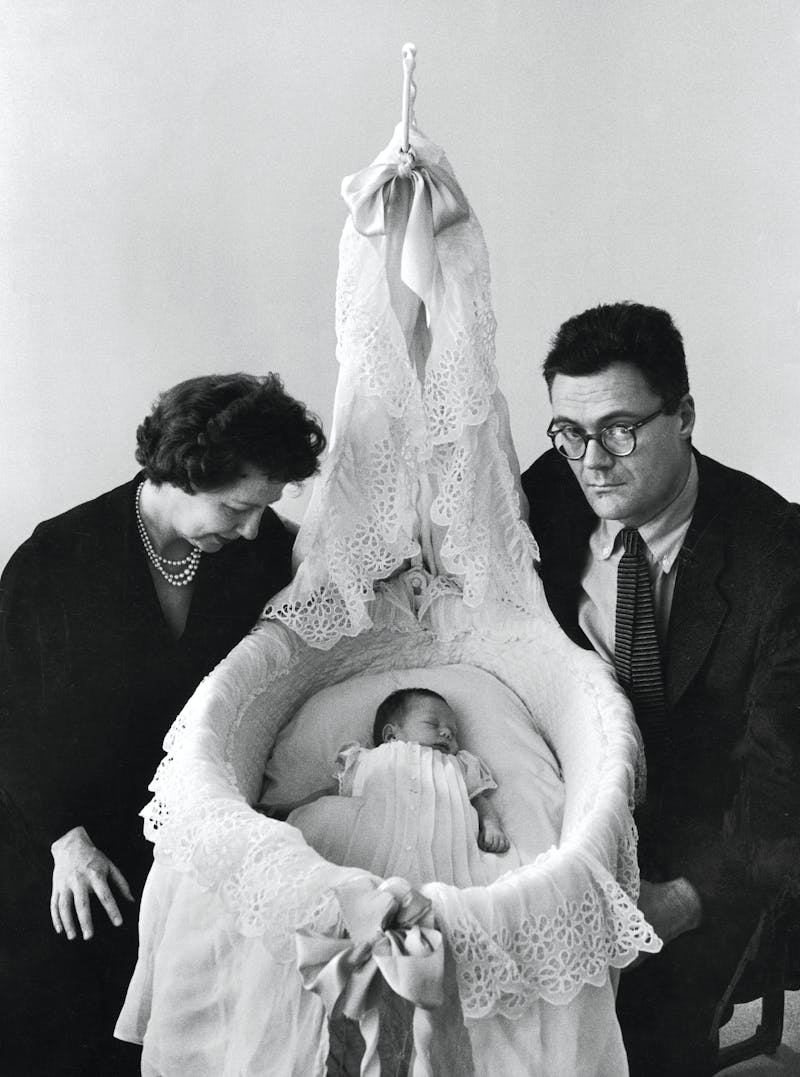 Robert Lowell had been dead seven years when The Paris Review interviewed Elizabeth Hardwick, the novelist, critic, and his second-to-last wife. In the conversation, she admitted that "Cal," as everyone called Lowell—a boarding school nickname that stuck—sometimes thought her critical work "snippy" but:

He liked women writers and I don't think he ever had a true interest in a woman who wasn't a writer—an odd turn-on indeed, and one I've noticed not greatly shared. Women writers don't tend to be passive vessels or wives, saying, "Oh, that's good, dear."
Probably no one had more justification to complain about Lowell in print than Hardwick did. Though they were married for 23 years, their union was worn down by Lowell's nearly annual hospitalizations for manic depression, his endless philandering, and his alcoholism. At the end of it, almost on a whim, he left her for the writer and "muse"—always a loaded term, that—Lady Caroline Blackwood. Then he took Hardwick's alternately furious and anguished letters to him and folded them, without her consent, into a full-length book of poetry, The Dolphin. This artifact of her humiliation won a Pulitzer. Yet Hardwick still continued to try to get him back, right up to the day of his death.
This all provides pretty good copy, as they like to say, for Jeffrey Meyers's new book, Robert Lowell in Love, a detailed accounting of the women Lowell pursued and lived and conversed with. Hardwick was the second wife of three. The first had been Jean Stafford, a writer now chiefly remembered for her caustic, hilarious short stories, many of which fictionalize the events of this disastrous relationship. Before the figurative banns were even issued, a drunken Lowell got them into a car accident that left Stafford permanently disfigured. Their subsequent wedded bliss was marked by mutual alcoholism, a punch in the face that broke Stafford's nose once again, and four months in prison for Lowell, who claimed conscientious objector status in World War II.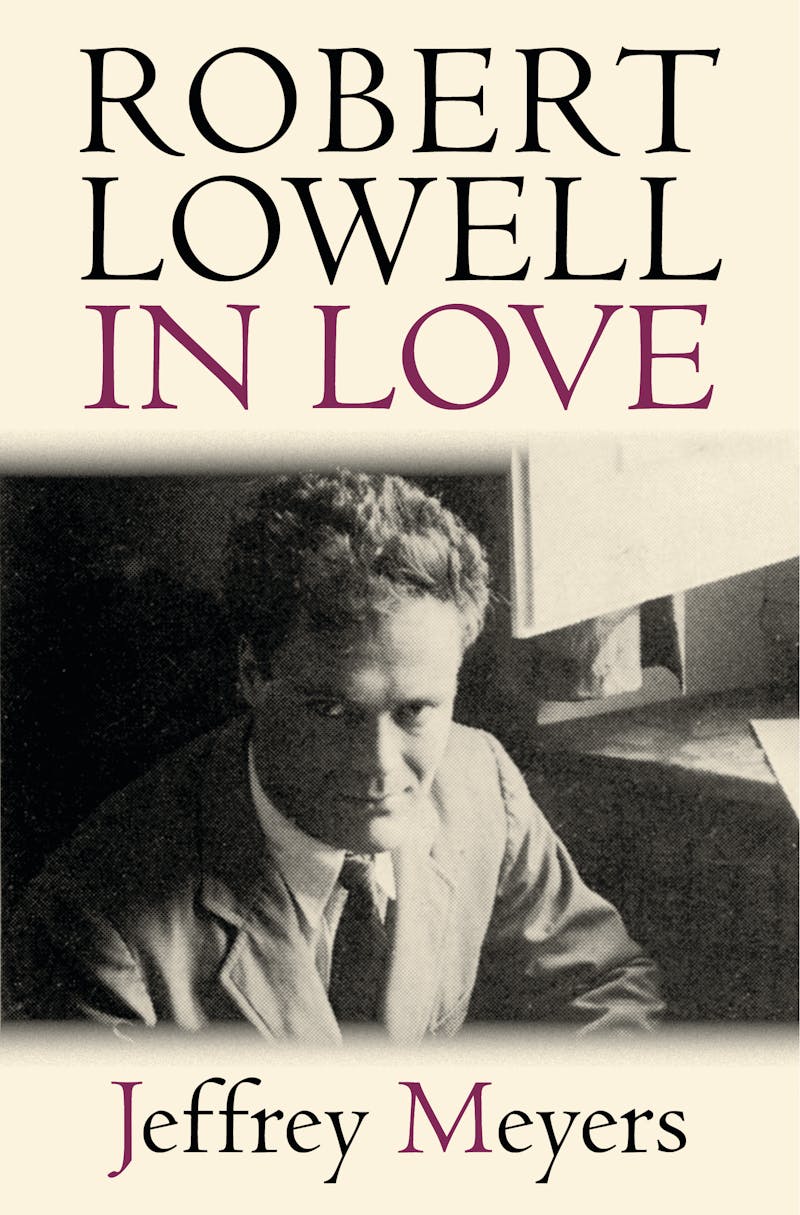 But while Meyers presents what is clearly a considerable amount of research—in an appendix he sets out all his work tracking down mistress after mistress—he misrepresents the texture of Lowell's relationship with Hardwick in particular, and with women more generally. Lowell, the reader learns, is a "hunk" with a "harem" of female devotees. Meyers titles the chapter chronicling the experiences of Lowell's mistresses as "The Heedless Heart," apparently unironically. He rhapsodizes at every opportunity about "the prestige and power that came with being Mrs. Robert Lowell"—a concern that he clearly feels was the chief engine of Hardwick's affection for her husband.
This is unfortunate, and not just as regards historical accuracy. We live in a time of abnormally loud complaint about Men Who Explain Things in the literary world. These arrogant men who ignore and denigrate the work of women are discussed and analyzed, again and again, to the point where it has felt, recently, like there is no other kind of male writer. But Lowell was never like that. Yes, he cheated, he cracked up, he was irresponsible and even cruel in the way he marshaled his life for his art. Lowell nonetheless believed that women were his intellectual and artistic equals. He spent most of his life behaving accordingly even as he treated his wives and mistresses so terribly, in romantic terms, that it was almost operatic. That is the puzzle of Lowell and women.
Another sort of book should be written on Lowell and the women in his life. It would not spend as much time on the mother and the wives as Meyers's does, but would be forced to reckon with Elizabeth Bishop. Bishop and Lowell were both tortured people, occasionally suicidal, and seasoned alcoholics. But they met through their work, and their relationship was primarily intellectual and epistolary. The correspondence between them was published in 2008 as Words in Air, which is among a certain sort of reader a talismanic book. They advised each other on their poems; they discussed the greats of their time (Marianne Moore, John Berryman) and of the past (Emily Dickinson, Gerard Manley Hopkins). The book has the magic quality that poets' letters often have—the ratio of meaning to language is high, which gives their observations, flirtations, and arguments a near-cinematic quality. The playwright Sarah Ruhl loved them so much she turned them into a play, Dear Elizabeth.
Meyers gives the whole Lowell-Bishop friendship just a few pages, which is difficult to justify even in a book restricted to Lowell's "loves." Not least because Lowell was, at one time, in love with Bishop. He said so himself. The correspondence reaches a romantic crescendo early on, when Lowell in a letter dated August 15, 1957 admits to Bishop that he'd once wanted to marry her, and in fact had assumed they would marry. Things had almost come to a head in the summer of 1948 when they were sitting on a rock, looking out at the ocean from the coast of Maine. "When you write my epitaph," Bishop told him then, "you must say I am the loneliest person that ever lived." This was the moment, he confessed in the letter, that he'd fixed upon marrying her. But other events had intervened, and he never asked—which did not mean he forgot about it or stopped justifying it to himself. "I do think free will is sewn into everything we do," he reasoned:
You can't cross a street, light a cigarette, drop saccharine in your coffee without really doing it. … I've never thought there was any choice for me about writing poetry. No doubt if I used my head better, ordered my life better, worked harder etc., the poetry would have improved. … But asking you is the might have been for me, the one towering change, the other life that might have been had.
Lowell hinted that he'd written this while in a manic state: "The last part is too heatedly written with too many 'and's and so forth." He was also aware that Bishop was gay and, by the time he wrote this letter, living with her lover in Brazil. It was a confession of love made with no hope of reciprocation.
Bishop did not reply—or at least not directly. But clearly she knew what he was talking about and details of the incident made their way into their common language. In another letter many years later, she'd correct a few facts, which Lowell had written up in a poem he called "Water":
Remember? We sat on a slab of rock.
From this distance in time
it seems the color
of iris, rotting and turning purpler
She also sent him a postcard of Winslow Homer's Marblehead, which, as Colm Tóibín pointed out in his review of the letters in 2009, depicts two people talking on a coastal rock. This romantic image recurred in their writings.
As Hardwick well knew, Bishop was not a passive vessel for Lowell either. When he sent Bishop the poems he intended to fashion into The Dolphin, she wrote back in carefully measured horror. Because so much of his poetry had used the words of friends and family, Lowell appears to have thought that using Hardwick's letters to him was merely an extension of his usual practice. "One can use one's life as material—one does, anyway—but these letters—aren't you violating a trust?" she asked. "If you were given permission—if you hadn't changed them… etc. But art just isn't worth that much."
It speaks to Lowell's profound respect for Bishop that he did, on her advice, actually alter the poems. But he published them nonetheless, still containing some passages from Hardwick's letters. The Dolphin also includes passages that Lowell actually invented but presents to the reader as hers, like this one, in which she appears eloquent even in a histrionic mode:
You can't carry your talent with you like a suitcase.
Don't you dare mail us the love your life denies;
do you really know what you have done?
Meyers seems mostly untroubled by The Dolphin. He has little sympathy for Hardwick to begin with, though he dutifully catalogs her suffering before noting that the episode made Hardwick a "famously betrayed woman and (like Sylvia Plath) a feminist icon." Then, apparently to demonstrate Lowell's good faith, Meyers points to the last line of the book: "My eyes have seen what my hand did" and characterizes them as "seething with self-accusation and remorse."
Perhaps, indeed, that was Lowell's conscience surfacing about the suffering he had left behind him. It is clear that Lowell had "seen" the damage he'd done to Hardwick's life, and to his daughter's. He may, at certain points, have been self-critical about it. But at the time he actually published The Dolphin he did not seem to feel particularly bad about it. To Bishop, he replied that he didn't think using the letters was slanderous, and that his use of Hardwick's actual words was "the poignance of the book, tho that hardly makes it kinder to her." Lowell continued, "It's oddly enough a technical problem as well as a gentleman's problem." His remorse, as performed in the poem, can't quite negate the coolness with which he decided to go forward, anyway. He had decided, despite Bishop's warning, that art was worth that much.
The person who ended up taking him to task for it most publicly was another woman poet friend: Adrienne Rich. She had written to him, when he first left Hardwick for Blackwood, to complain that his decisions were based in "sexual romanticism." Then when The Dolphin came out, she wrote searingly of it in the American Poetry Review:
What does one say about a poet who, having left his wife and daughter for another marriage, then titles a book with their names, and goes on to appropriate his ex-wife's letters written under the stress and pain of desertion, into a book of poems nominally addressed to the new wife? … I think this bullshit eloquence a poor excuse for a cruel and shallow book.
Meyers characterizes this moment as the break between Lowell and Rich; in fact, their friendship had been dissolving for some time at that point. In 1973, when The Dolphin appeared, Rich had long been blooming into the radical feminist politics that would dominate the second half of her career; Lowell, like most of her friends, disliked the turn in her writing.
He nonetheless felt the break keenly. In response to the review, Lowell sent a letter to its editor sadly noting that Rich had once been one of his closest friends. He could not resist, even in criticism, half complimenting her work:
I could say she has become a famous person by becoming cheap and inflamed; but that isn't it. Her whole career had been a rage for disorder, a heroic desire to destroy her early precocity for form and modesty. And wasn't she right? And wasn't she unrecognized mostly when she first became a better poet and before the time of her fevers? And who knows how the thing will turn out—such a mixture of courage and the auctioneer now?
The nominal respect he gives Rich here is interesting, this odd "turn-on" of the intelligence of women writers a curious aspect of the man indeed. I suspect it gives us the clearest answer to why, in spite of all his terrible behavior, Lowell was irresistible to so many talented, intelligent women. He was, much of the time, really listening to them. That this was possible in the midst of so much insensitivity and philandering suggests truly vast possibilities about communication across the gender fault lines. If only someone would write a book about it.