For women in Hollywood, 2015 was the year the industry's abysmal gender gap made front-page news. High-profile actresses like Jennifer Lawrence spoke out against the pay gap, Geena Davis started her own film festival dedicated to promoting women and diversity in film, and the Equal Employment Opportunity Commission opened an investigation into gender discrimination in Hollywood.
But while the statistics remain dismal, the movies on screen demonstrated clearly that women's stories are just as worthy—and lucrative—as men's. In an industry traditionally dominated by men, this year has seen a (relative) abundance of movies made for women, about women, and even—in a few still-too-rare cases—by women. (This list highlights a few examples of the latter.) Four of the ten highest-grossing movies of the year featured female protagonists—still not equal, but up from just two in both 2013 and 2014. Inside Out introduced only the second-ever heroine in a Pixar movie, while indie darling Room transformed a horrific story of sexual abuse into a tale of love and recovery.
It's not just that there were more movies about women; this year's films pushed the boundaries of what we expect women to look like on screen, bringing to life new aspects of the female experience and asking questions of our cultural representation of women. Watching these movies was thrilling, but also sad; I realized what I had been missing all the years of watching primarily men's stories on screen. From blockbusters like Magic Mike XXL to indie films like The Diary of a Teenage Girl, here are some of the scenes in 2015 that best captured a woman's experience.
Suffragette: Radical solidarity.
Directed by Sarah Gavron
There's a quiet moment in Suffragette, between the protests and hunger strikes, when Violet (Anne-Marie Duff), one of the most radical, committed activists, leaves the movement. She's pregnant again. When she tells Maud (Carey Mulligan), whom she had brought into the group, Maud doesn't ask Violet to stay. She simply gives her a hug. Movies about men's political struggles are almost always focused on the sacrifices men make for their cause, but in this brief moment of female solidarity, we get a rare glimpse of the reverse: For women, sometimes the movement can't be everything, no matter how much they believe in it.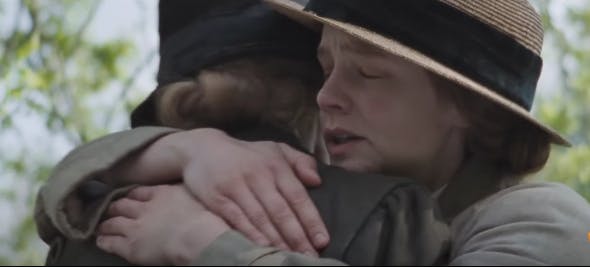 Sleeping With Other People: "Be a little rude to the clitoris."
Directed by Leslye Headland
This sweet, sexually explicit rom-com is a classic will-they-won't-they story cloaked in a quirky premise. Lainey (Alison Brie) and Jake (Jason Sudeikis) run into each other at a support group for sex addicts years after losing their virginity together in a one-night stand. Despite an obvious attraction, they vow to remain just friends, with a safe word for whenever the sexual tension gets to be too much. They stick to it, and guide each other through life's many travails: sex addiction, kids' birthday parties, an emotionally abusive relationship, and—in one hilarious scene—the basics of pleasuring oneself. After Lainey confesses to not having had an orgasm for a year, Jake gives Lainey a lesson in masturbation using a glass jar that once held green tea. (The keys, in case you were wondering, are to "tap the roof" and "mind the gap.") "The trick is to be a little rude to the clitoris," Jake says, "you know, like you're scratching a record." It's a hilarious scene, but it's also refreshingly frank and open about female anatomy and sexuality.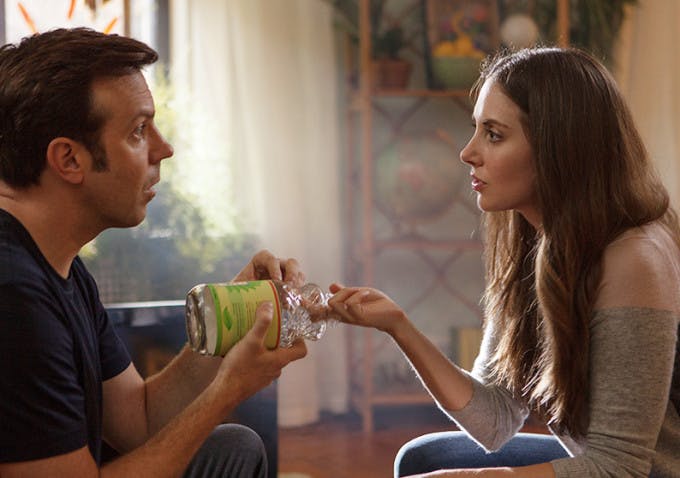 The Diary of a Teenage Girl: What you're going through is normal.
Directed by Marielle Heller
There's nothing extraordinary about Minnie Goetze, a 15-year-old girl living in drug-happy, sexually liberated 1970s San Francisco with her single mom. Like most girls her age, she's curious about sex and yearns desperately to be loved. But The Diary of a Teenage Girl, which chronicles her sexual awakening, feels extraordinary in its honesty. "This is for all the girls when they have grown," Minnie says, and the movie takes that pledge to heart. It's a frank, sometimes brutal depiction of one girl's sexual desires, no judgment attached. After losing her virginity to her mom's boyfriend, Minnie lays in the bath dreaming about him, and when she's out of the water, she stares at her naked body in the mirror. "Sometimes I look in the mirror and I can't believe what I see," she says. "I just realized I've had breasts for three full years now." These are thoughts all girls have had, but maybe not said aloud—and certainly never heard in a movie.
Magic Mike XXL: The female gaze can be satisfying—or silly.
Directed by Gregory Jacobs
The only movie on this list starring men, Magic Mike XXL is still arguably the most feminist film of the year. Men ogling women is mundane, a fact on screen as it is in life. But women ogling men—even paying to do it—still feels disorienting, even shocking. Magic Mike XXL, the sequel about men whose bread and butter is to make women smile (or rather howl in pleasure), tells women it's okay. Not just to want the raunchy things, but also the silly ones: like a striptease soundtracked to the Backstreet Boys. Rome, the owner of the high-end strip club for women played by Jada Pinkett Smith, puts it best in the movie's spectacular, orgiastic finale. To introduce Mike and his friends to their adoring, mostly female audience at a stripper convention, she says: "You know past those closed doors don't you get tired of everyone telling you what is a 'good woman?' How a good woman talks, how a good woman should be sexed. Sometimes you just want someone to ask what you want and give it to you just like that. And then whisper in your ear, 'How does it feel?'"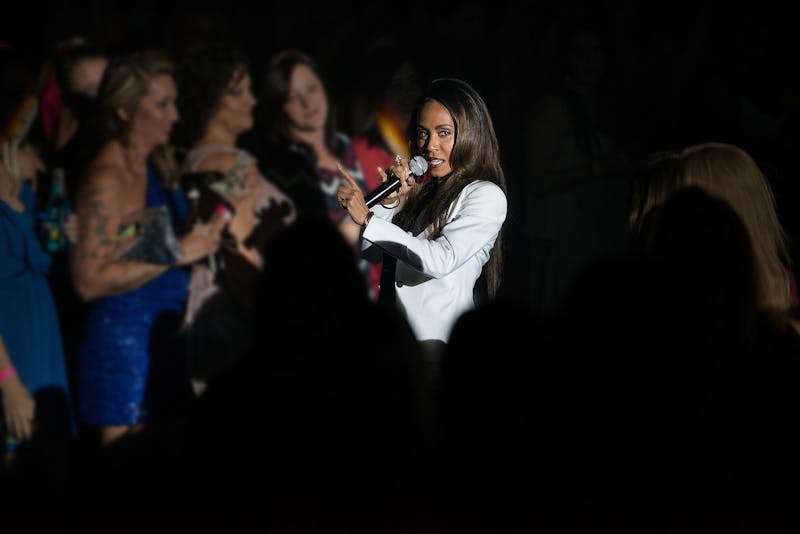 Pitch Perfect 2: Make your own romantic gesture.
Directed by Elizabeth Banks
Boy meets girl. Boy and girl get together. Boy does something stupid. Boy makes a grand romantic gesture to win girl back. This has been the formula for Hollywood romances for time immemorial. In Pitch Perfect 2, however, everyone's favorite Bella, Fat Amy (Rebel Wilson), doesn't hesitate to make her own romantic gesture. She paddles across a lake singing her heart out, punctuating the serenade with her particular brand of humor. ("I really misjudged the size of this lake," she says.) Try topping that, guys.
The Danish Girl: How femininity is learned.
Directed by Tom Hooper
The story of Lili Elbe, one of the first people in history to undergo gender reassignment surgery, is about the learning and performance of womanhood. As Lili realizes, it's not enough just to look like a woman; she wants to know how a woman holds her head, or gets dressed in the morning, or flirts with a man. Played by Eddie Redmayne and first introduced to the audience as Einar, a male painter, she studies the women around her while transitioning into Lili—the way they choose fish at the market, the way they coax stockings up their legs, and in the most haunting scene in the movie, the way a naked model at a peep show touches herself and pretends to feel pleasure. In the dark booth, Einar mirrors the woman's movements, running his hands up and down his body, acting out another person's pleasure until it becomes his own.