I've been a fan of Liverpool Football Club since I was twelve. For more than half of my life, I have been waking up every weekend at the crack of dawn to watch eleven men half a world away kick a ball for 90 minutes. I hardly remember why my preteen self chose to adore Liverpool, not Arsenal or Manchester United or Everton. Was it the color red? Was it the cool bird in the crest? Did I flip a coin?
Actually, who am I kidding? It definitely had something to do with Michael Owen (swoon), who I saw play for England in the 2002 World Cup, when he was a Liverpool star. But really, it could have been anything. American soccer fandom, especially when it comes to those who love the European game, is distinct in its arbitrariness. People who live in Los Angeles or Cleveland or Washington love teams from places they've never heard of, or couldn't locate on a map. (Leicester? Bournemouth? Newcastle?)
That arbitrariness was on show last weekend at the first-ever BlazerCon, a giant soccer convention organized by Roger Bennett and Michael Davies, who together host the NBC soccer show, Men in Blazers. (They also host a podcast of the same name.) At the two-day convention in Brooklyn, Bennett and Davies brought in speakers from around the international soccer world, including Premier League CEO Richard Scudamore, his Bundesliga counterpart Christian Seifert, Everton manager Roberto Martinez, Liverpool CEO Ian Ayre, and MLS commissioner Don Garber.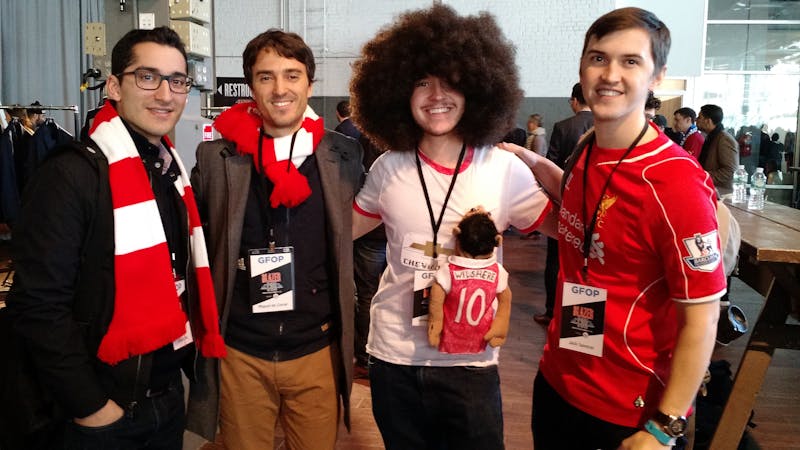 Around 1,300 fans attended, decked out in blazers, the scarves and jerseys of the Premier League team they support and, in some instances, both. Their reasons for supporting Tottenham Hotspur or Everton or Manchester were almost always arbitrary. Many attendees told me they started watching because they played soccer as children; in most cases, the World Cup turned them on to European soccer. The majority of people I spoke to also wanted to support an underdog, leading them to choose Tottenham over Chelsea, or Crystal Palace over Arsenal. One attendee told me he supported Everton because he was of Irish descent, and the club has always had a strong contingent of Irish players. Another supporter said he simply chose Everton because of Bennett, who loves them.
But no matter their club, these fans were serious about their love. They had to be, considering the cheapest BlazerCon tickets cost $225. (The VIP tickets set you back $425.) Unsurprisingly, the fans at this sold-out event were overwhelmingly white men, a demographic showing that strikes at the heart of the cultural divide in American soccer fandom. Men in Blazers, like NBC and FOX, are chasing typically white upper-middle class viewers who will buy their cable packages and turn up at pubs to watch their matches over pints of Guinness.
BlazerCon didn't take into account the millions of American soccer fans who don't fit this demographic. The MLS, for instance, has far and away the largest share of Hispanic viewers of any American sport: 34 percent to the NBA's 12 percent. Nearly 40 percent of MLS fans make less than $40,000 a year. Despite the Premier League's rising popularity, Univision's broadcast of the Mexican league in the U.S. outperforms NBC's coverage of the English league by 15 percent each season. These people were not at BlazerCon, and they would hardly consider Davies and Bennett the great saviors of American soccer culture.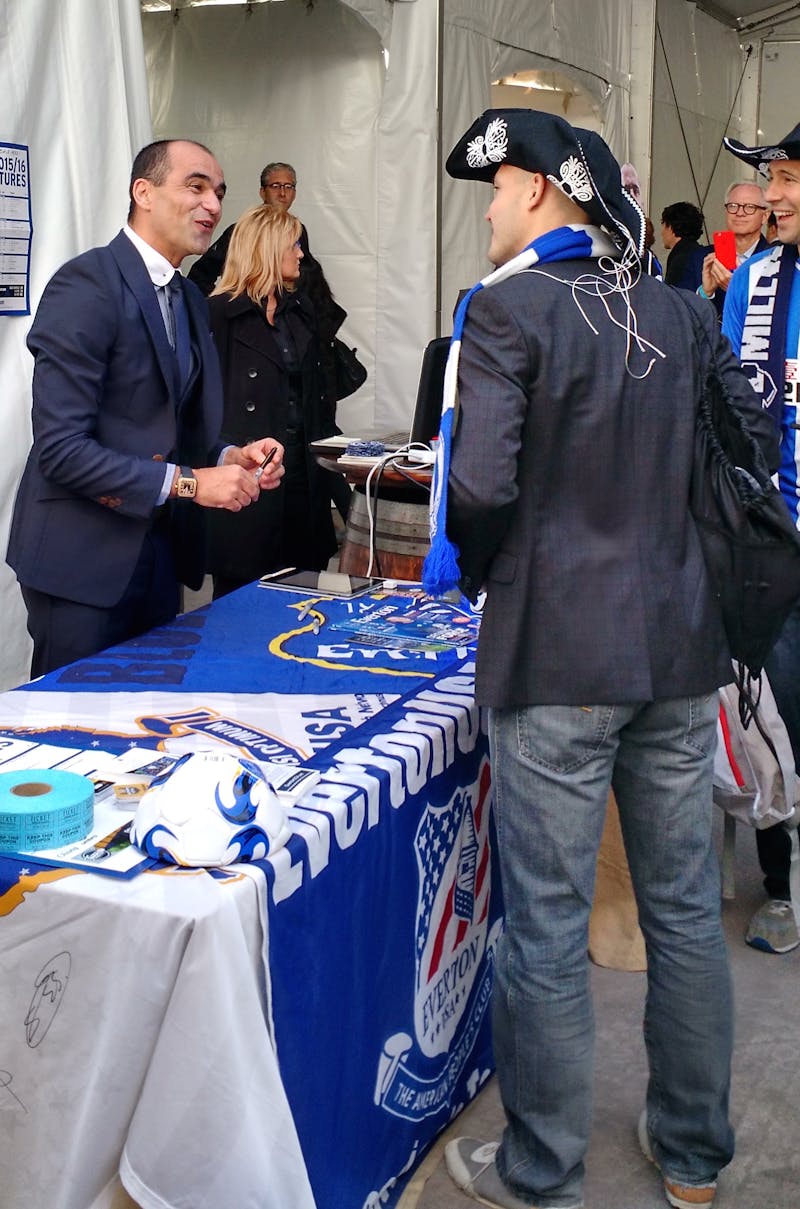 The lineup at BlazerCon played into this divide. BlazerCon, with its parade of chief executives in impeccable suits, felt more like an industry conference than a fan gathering. It was a football convention almost entirely devoid of football, like Comic-Con with only producers and studio chiefs. The biggest draws were Everton manager Roberto Martinez, who signed autographs after his panel, and player-turned-pundit Alexi Lalas. But by and large, the people who spoke at BlazerCon were not people fans would know. It was a convention designed for rabid Men in Blazers fans, not football fans overall. Devotees could eat pies and drink Guinness, which Bennett and Davies do on the show, and buy thousand-dollar blazers—Men in Blazers crest in tow.
Bennett and Davies, whose web site says they "believe soccer is the American sport of the future," called BlazerCon part of their attempt to expand the sport's presence in America. Their goal is admirable, but BlazerCon was not the best way to do it. Soccer is often called the people's game, beloved around the world for its simplicity and accessibility. At BlazerCon, most of those people were not included.