Uber has changed its firearms policy to prohibit drivers and riders from carrying guns. The ride-sharing company quietly updated the policy on its website, which now reads: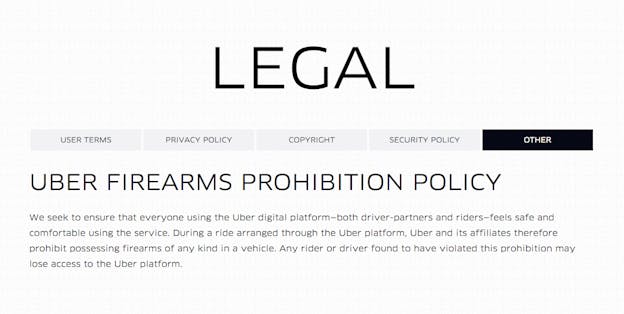 Uber representative Matt McKenna shared a statement from the company in an email:
We have adopted a no-firearms policy to ensure that both riders and drivers feel safe and comfortable on the platform. We made this policy change after assessing existing policies and carefully reviewing recent feedback from both riders and driver-partners.
In April, The New Republic reported that Uber's policy "requires all its drivers to abide by local, state, and federal laws pertaining to transporting firearms in vehicles," a policy that differed significantly from that of another ride-sharing service, Lyft. Lyft has a "strict 'No Weapons' policy," a decision that the company said comes "from a community perspective—it's hard to know what someone else is or isn't comfortable with."
The companies' differing policies came to light after an Uber driver in Chicago shot a man who was firing a pistol into a group of people. The Uber driver, who was not named and who had a concealed carry permit, had dropped off a passenger only minutes before pulling out his gun and firing six times at the man shooting a pistol.