Hillary Clinton has hired beloved Olympic figure skater Michelle Kwan. But if you followed the athlete's career, the symbolism couldn't be more disastrous for Clinton's 2016 campaign. Clinton's career has some uncomfortable parallels with Kwan's: No one could beat the Kween. Until someone did.
Some political writers (dudes) like to compare politics to football or baseball, team events with many players and many games. But clear-eyed sport-loving political writers (me) know that politics is actually like the glamour sports—ice skating and gymnastics—which involve years of unseen training and a whole team of coaches and image-makers who sit on the sidelines on the big night as the athlete competes alone in the spotlight.
The tortured but entertainingly ominous HillKwan analogy goes like this: The 1998 Olympics Games in Nagano are the 2008 election. HillKwan is the beloved favorite. Kwan was the U.S. national champion; Clinton had coasted to reelection in the Senate. But a year before the Olympics/election, a fresh-faced youngster named Tara Lipinski [Barack Obama] had been getting attention. At the Olympics, HillKwan won over the judges [super delegates], but in the free skate, Tarack competed dazzling feats of difficulty and strength [doing the math on the primaries and caucuses]. In the end, HillKwan was defeated by the upstart Tarack.
Now, the important and serious question we face today is: Is the 2016 election exactly like the 2002 Olympic figure skating competition? Like Clinton in 2016, the graceful Kwan was the favorite in Salt Lake City, too. It was her turn. Despite troubles with her longtime coach [staff?], she was again U.S. national champion. Sure, Kwan faced tough competition from Russians [Republicans?] in the form of Irina Slutskaya [war on women!], but she was the battle-tested veteran, competing on home turf [friendly demographic trends!]. She started strong, winning the short program [the invisible primary?]. But in the free skate, Kwan stumbled. She was surpassed not only by Slutskaya, but by another teammate, the 16-year-old athletic snoozefest Sarah Hughes [Martin O'Malley??], who became 2002 Olympic champion. After the competition, Kwan skated the exibition she'd planned long before—in a gold dress, to the song "Fields of Gold." That, sports fans, is hubris. As she finished, tears ran down her cheek. Take note, Hillary.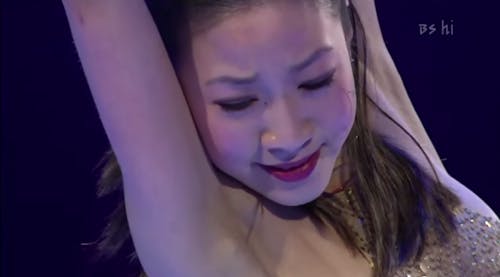 "Every four years a new person arose to take out Michelle," former pairs skater Chris Schleicher told Deadspin last year. Sound familiar? Kwan is now fully on board with Clinton's campaign to make sure Olympic past is not political prologue.