An 18-year-old man who attacked a Baltimore police car with an orange traffic cone faces a higher bail than the cop who allegedly murdered Freddie Gray.
Allen Bullock, who rioted in Baltimore on Saturday over the death of 25-year-old Gray, turned himself into police on Thursday after his stepfather warned that the police would track him down and "beat him." He is charged with eight misdemeanors and his bail was set at $500,000, according to The Guardian. Bullock's family now regrets telling him to turn himself in.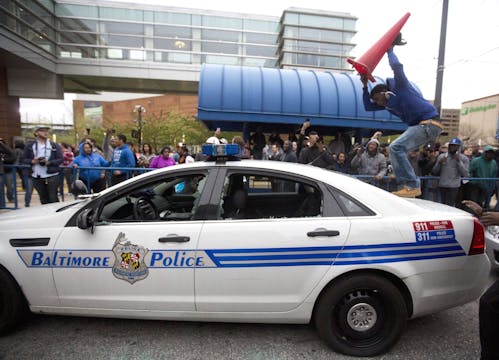 On Friday, Baltimore's chief prosecutor, Marilyn Mosby, charged six cops in the death of Gray after the state's medical examiner ruled Gray's death a homicide. Mosby said that the officers had no grounds to arrest Gray, never seatbelted him in the police van, and repeatedly ignored his pleas for medical help. At times, Mosby said, the officers left Gray face down in the vehicle with his hands tied behind his back. Gray's spine was 80 percent severed at his neck, and he died in the hospital a week later.
The officers faced an array of charges, including assault, false imprisonment, and misconduct in office. Officer Caesar R. Goodson Jr, the driver of the police van, faces the most serious charges, including second degree murder charges. His bail was set at $350,000, according to The Baltimore Sun's Justin Fenton.

This article originally misspelled the name of Justin Fenton.