As I type this, my rib cage is resting on the waistband of my jeans. Skinny jeans are dying. Mom jeans are back. Thighs are out. Waists are in. Goodbye, blown-out spandex crotches. Hello, beautifully-frayed, mid-weight, all-cotton denim. There are some who argue the return of mom jeans marks the death of alt youth culture, as One Percent Teens joyously (but somehow still ironically) wear them to celebrate their oppression of the proletariat. Okay, only The Baffler argues that. But even so: Do not be afraid. Mom jeans are a good thing.
What are mom jeans? The better question is: What was the mom jean? Twenty years ago, they were just the jeans that were fashionable at the moment—light blue wash, waistband near the natural waist, and 100 percent cotton. They began disappearing from malls in the late '90s, the Britney Spears low-rise flares era. And then in May 2003, unfashionable denim was turned into something special, when Saturday Night Live aired its famous ad for Mom Jeans.
In the video, Tina Fey, Amy Poehler, Maya Rudolph, and Rachel Dratch dance around cheery suburban scenery in jeans that are loose, sometimes pleated, sometimes elastic-waisted. Their butts look really big, which was more of a crime back then, before Kim Kardashian. The women happily accept sexual rejection. A voiceover urges, "Give her something that says, 'I'm not a woman anymore, I'm a mom!'" The jingle says, "Giving up, giving up! Put on your mom jeans."
In 2010, Fey, who sometimes dances on a line between feminism and anti-feminism, told Vogue that she came up with the term after an apartment fire forced her to buy emergency pants, and she accidentally got a pair with "this enormous rise." Fey's origin story is less interesting than Vogue's explanation of her triumph: "To coin a phrase is something special. To name a fashion faux pas so that others may avoid it? That's God's work."
It was more than a neologism. It was about drawing a clear line between the sexually living and the sexually dead. Fey's mom jeans joke was so powerful that by 2004, a company called Not Your Daughter's Jeans was founded. The jeans were slim like young people's jeans but with slightly thicker stretch denim, and, in one model, reinforced panels that promised a "Tummy Tuck." Here were non-mom jeans for moms. By 2005, NYDJ was selling $7 million in jeans a year. By 2013, NYDJ was making $200 million in sales. A few years earlier, BrandTwist, a brand consultancy, said there might be something "empowering" about NYDJ. "They are super comfortable and (passably) stylish. ... I think the makers of these jeans are giving mid-life women a permission slip. 'Stop trying to squeeze into something not meant for you and feel comfortable in where you are at.'" Giving up, giving up!
In the decade following Fey's brilliant observation, jeans got darker and skinnier, until all of America was walking around on little black insect legs. Even moms. (Try NYDJ's "Sheri Skinny" in black for $110!) But you can only take one silhouette so far before you wake up one day and suddenly the opposite of everything you used to like now looks fresh and new. And that is happening now, with mom jeans and Normcore and '90s nostalgia and so on. This is great. All-cotton jeans get better with age, and you can put them in the dryer, while the stretchy stuff in skinny jeans wears out quickly and often creates weird puckers in the crotch. And unlike skinny jeans, mom jeans don't expose the precise cellular structure of the wearer's butt, which was kind of a weird thing to wear around the office anyway. Perhaps most important, mom jeans used to be sexy. Cindy Crawford in the 1992 Pepsi ad? Those are mom jean shorts.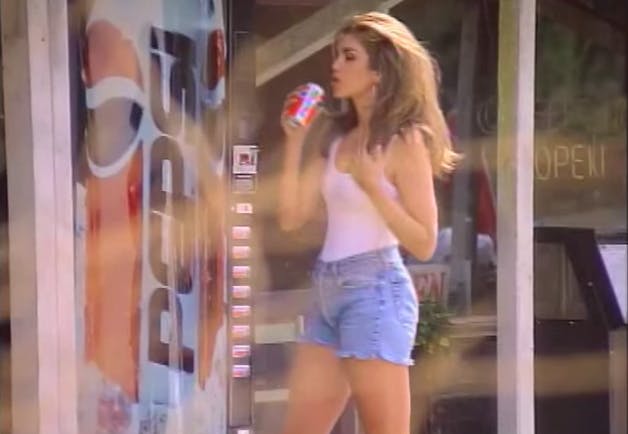 But that's only if America can let Fey's anti-light-wash ideology go. The friction between natural need for something new and the artificial revulsion toward mom jeans can be too much for human brains to process, resulting in strange behavior. For Halloween last year, the "Today" show reenacted SNL's mom jeans ad with Savannah Guthrie, Meredith Viera, and Jenna Bush Hager. The results were bizarre—a barbaric humiliation ritual in which cameras panned over the asses of two serious journalists and a president's daughter to a jingle saying they were "giving up, giving up!" Making it more weird, all three women are slim, and Bush Hager is only 33. The jeans were tight. They didn't look like they were giving up.
And as YouTube commenters noted—that's right, YouTube commenters, notoriously the most monstrous of all commenters—the ladies looked good in their mom jeans. In fact, some were confused: "Not sure how this isn't sexy."
In the live shot after the clip, the three women stood together, backs to the camera, and stooped a little, butts thrust outward. Vocalizations indicated all were having a great time. ("Wooo!" etc.) Al Roker played their butts with drumsticks. Haha, because moms aren't sexy, right? Clearly the "Today" show brains could not reconcile the stigma against mom jeans with the arousing spectacle of a tiny waist and a huge ass. This is the paradox of the mom jean.
For another example, check out The Baffler's catastrophically wrong essay about mom jeans. The idea of sexually attractive young females willingly prancing around New York City in mom jeans was so unfathomable for Eugenia Williamson that she could only come to one conclusion: The "hipsters" were doing it "ironically." The truth is that hipsters are extinct, that irony as a lifestyle choice is over, and that the kids these days are sincere. But Williamson's essay is telling. She writes that "it's hard to interpret the appeal of the nü mom jean as anything other than a fairly aggressive mode of derision." The butt of the joke: Real moms who shop at Walmart and Target.
It takes a lithe physique and other signifiers of privilege to put quotation marks around apparel that, under most circumstances, reads as clueless or careless. Mom jeans are designed for comfort and concealment, while "mom jeans" mock the need to cover up the flaws of a non-catwalk-ready body by emphasizing their absence, with the added bonus of mocking other flawless girls who've fallen for the far more pedestrian charms of skin-tight low-riders.
Further:
When urban hipsters fetishize the déclassé and the mundane, they rely on their understanding of middle America as a colony, one filled with happy proles to be mined for fashion inspiration.
It's always tricky for fancy people to speak on behalf of the working man. Midwestern Targets and Walmarts have been selling skinny jeans for ten years. New York people aren't wearing mom jeans because people in Nebraska wear them. They're wearing them because people in Nebraska don't.
Williamson eventually spirals into despair, denouncing alt youths for wearing mom jeans despite the existence of ISIS, Bangladeshi sweatshops, Ferguson, and Bill Cosby. "Bill Cosby, the poster boy for '80s Normcore, came under fire from more than two dozen accusers on disturbing charges of rape and sexual assault," she writes. As the well-dressed readership of The New Republic knows, Bill Cosby is not the poster boy for 80's Normcore, but the poster boy for wildly colorful and unique Cosby sweaters, which are basically the opposite of everything in a 1994 Gap ad. (And it's a bit of a stretch to blame "hipsters" for sitting idly by in their mothers' wombs while all those rapes allegedly happened.) All this rage sparked by the simple image of people in their sexual prime wearing an item of clothing that has been clearly assigned to people who aren't.
Calm down everyone. It will be okay. You will wear mom jeans and you will like them. Not Your Daughter's Jeans will likely sell mom jeans for moms. And soon enough we'll find a new shame suit for women over thirty.