Last week, Helena Costa resigned from her job as the head coach of second-division French club Clermont Foot. In the midst of World Cup fever, the news slipped under the radar, but it was momentous. The first woman ever appointed to lead a professional men's club just quit her groundbreaking job—before the first ball was even kicked. Costa, who had previously scouted for Celtic and coached the Iranian and Qatari women's national teams, had only been appointed in May in what had been praised around the world as a landmark decision.
The reason for her sudden resignation? "A total lack of respect," she said in a statement to Portuguese newspaper A Bola last Tuesday. According to the 36-year-old Portuguese coach, the club management had totally undermined her position, signing players and arranging friendlies without informing her. She only learned of their actions by email through the club's secretary.
"My departure is a collection of events that no coach would have been able to allow," she wrote. "I find it unacceptable that, within a professional structure, the coach learns of a player signing via the secretariat of the club by reading the names of players in a list of those who have to undergo medical tests."
When she tried to address the problem by contacting the club's sporting director, she alleges that he refused to answer her. "By email, I immediately informed the sporting director of my disagreement. His response: 'You wear me out with your tons of mails. I'm not at your beck and call.'"
Clermont club president Claude Michy had been hailed as a pioneer when he appointed Costa two months ago, but his reaction to her resignation was anything but enlightened. "She simply told me, 'I'm leaving'. She goes with her secret," he told the press on Tuesday. "She's a woman. They are capable of making us believe a certain number of things."
Clermont Foot has since hired another woman, Corinne Diacre, to replace Costa. Diacre, who has been an assistant for the French national team for the past seven years, is undoubtedly qualified, but her hasty appointment begs the question of whether Clermont wanted her for her coaching credentials or for her gender. It seems to confirm what Costa accused them of—hiring women primarily for the publicity, and after, to be "the face of the club" without power or authority.
It remains to be seen how Diacre will fare at Clermont, but this episode has already made it clear: women are not really welcome in football. Sexism is built into the sport, and it extends from front offices to the bars where women who know to call it football go to watch games. We are assumed to be with our boyfriends. We are met with snide remarks and knowing smiles—we're only there, obviously, to watch attractive men run around and tussle with other attractive men. No woman could possibly like football the way men do, understand how it's played, know its history, or appreciate the skill behind James Rodriguez's goal against Japan or the evil genius of Robben's drawn foul against Mexico. Forty-three percent of World Cup 2010's global audience was female, but the people hired to write about, comment on, and narrate this World Cup remain almost exclusively male. The message is clear: only men are real fans; women are fangirls.
It's true that Buzzfeed lists like "The 30 Hottest Bearded Men Of The World Cup" or "18 Sexiest Soccer Players To Look Out For This World Cup" don't help matters. But they also highlight an underlying difference between men and women, and the ways in which they are perceived. Male sports fans can watch the game with a pundit's keen eye and ogle the athletes (just think about Maria Sharapova), but women sports fans are defined by finding athletes attractive. To have even a chance at being taken seriously, women football fans have to keep their mouths shut, to pretend not to see how handsome some players are and keep their comments strictly to tactics and goals.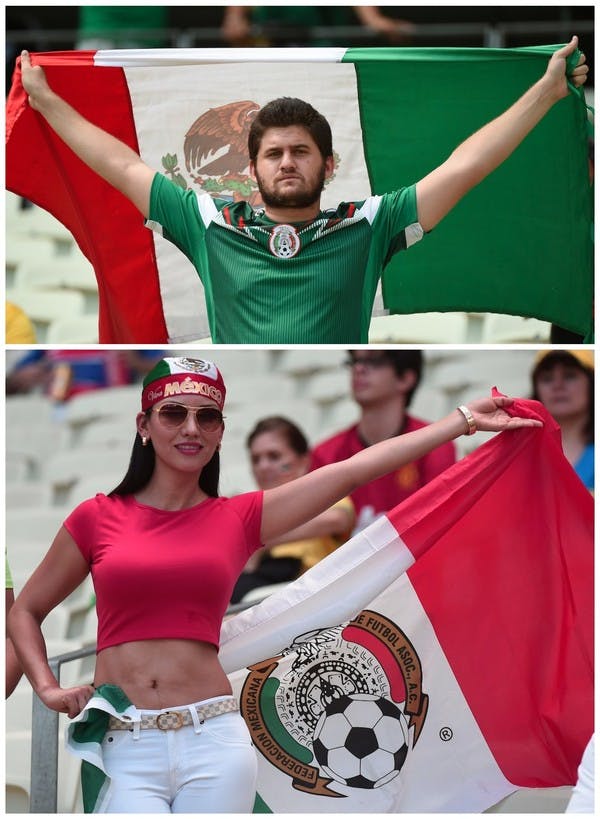 The entire footballing world is set up to subtly promote this idea. Think about the last game you watched. Crowd reaction shots are part and parcel of World Cup coverage, from the despair of a missed opportunity to the euphoria of victory. The men come in all shapes and sizes, picked out of the crowd for their amazing costumes, their passion, or their despair. But the women? The women are almost always young and beautiful. When was the last time you saw ESPN or Fox Soccer Channel or Sky Sports show an older woman or even regular-looking woman in a football crowd? (I was taken by surprise when watching the Bundesliga on German television last season, where cameras show entire groups of older women in the crowd. Maybe it's a demographic thing, or maybe the Germans just aren't embarrassed about their grandmothers.) It's another way of saying that women aren't real fans, that their presence in the stands is of only superficial value. They are there to ogle and be ogled. Leave the football to the men.
The World Cup is extraordinary for its ability to bring together people from all over the world, to make people briefly forget their country's economic or social problems to rally around eleven men running around with a ball. The Ghanaians rationed electricity so that the entire nation could watch their group stage matches; the Greek players turned down their World Cup bonuses to help foster the future of the sport in the debt-ridden country. What a shame it is then that football culture conspires to keep women—half the world's population—from feeling an equal part of the community. From Helena Costa, who hopes for another opportunity to coach a men's team, to the girl sitting at the bar watching the game, women belong to football, and football belongs to women. It should be that simple.